Senior Maggie DeGennaro said she sees the same store-bought Halloween costumes year after year.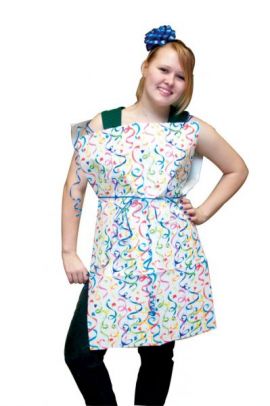 "My friends and I have been talking about how Halloween has turned into Slut-o-ween [with costumes]," she said. "One of my friends is making fun of things by actually being a sexy guitar to prove you can make any costume sexy."
DeGennaro has been making her own clothes since her freshman year. She said she likes to reconstruct old pieces of clothing and turn them into new outfits.
This year other students are doing the same, making green the new orange. From using old pizza boxes to wrapping paper, students are making Halloween an eco-friendly holiday by reusing materials they had laying around in their rooms.
Local nonprofit organization SewGreen is also following this trend and hosting a Green Halloween Masquerade Ball tomorrow night featuring a recycled costume contest.
The ball was planned and organized by a dozen local teens. Ithaca High School senior Kat Anible said the idea came from her motive to reuse clothes she doesn't wear.
"The recycled costume contest is a chance for people to refashion things they already have," she said. "You can sew something new from old fabric or just reuse materials."
Alaine Blessman, a sophomore at Ithaca College, said she believes holidays like Halloween are wasteful, which is why people should find alternatives to purchasing a Halloween costume.
"Halloween is so consumer-driven," she said. "You buy a costume, use it once and throw it out. It's important to use what we already have."
DeGennaro said places like Salvation Army and Trader K's are great places to get ideas for costumes.
Jay Sciarabba, owner of Trader K's, a consignment shop on The Commons, said his store offers affordable costume possibilities.
"The options we have are incredible," he said. "We have a men's section, a women's section, children's — even toys if they wanted to use props. We also sell Halloween costumes — anything from Elvis costumes to belly dancer costumes."
Junior Kirsty Ewing said creating new outfits out of old clothes always shows a person's creativity. She said sustainability is almost like a new breed of fashion.
"The sustainability aspect provides another means of reusing what would otherwise get thrown out," Ewing said. "It's awesome to see the creativity in taking an old T-shirt and turning it into something great."
She said when she can't find something in her closet, she loves to look in local shops for cheap pieces.
"I love Salvation Army," Ewing said. "Students [should] consider checking it out. Ask friends or re-fashion some old clothes. The most important thing is to avoid buying something new that you will only use on Halloween."
DeGennaro said there are easy ways to make simple costumes out of a little face paint and a cool shirt.
"Being a mime is pretty easy," DeGennaro said. "Paint your face white and wear black pants and a striped shirt. One of my friends was a black and white movie character. She wore a grey dress and painted her body with grey paint."
For last minute Halloween costumes, taking a look through drawers and closets is often the easiest solution, said freshman Eric Dobesh.
"For starters, look at your own clothes," he said. "You may not be equipped to be a zombie just out of your drawers, but then again you might. See what you don't mind cutting or ripping."
Sciarabba said being sustainable should not just be for Halloween.
"It's year-round," he said. "We recycle everything, even our shopping bags. Even though we have costumes on sale now, we don't just throw them out after Halloween. We put them in the basement and bring them out again next year. I hope [students] are more eco-friendly this year."