Snapshots: a herd of bison grazing on prairie grass, a mesa of white stone as their backdrop. A vast, steep red-rock canyon — cliff faces dotted with layers of sand and stone. A serene, windblown Pacific island with blue sky and sea surrounding the small lighthouse in the distance. And in every photo, the same cheerful, carefree man smiles for the picture being taken to document each piece of his journey.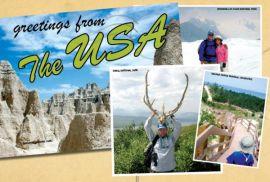 Ari Kissiloff '90, M. S. '93, a strategic communication professor at Ithaca College, has accumulated thousands of photographs over about 20 years of visiting national parks and monuments across the country.
"I didn't wake up one day and say 'I'm going to do this: I'm going to visit every [national site],'" he said. "As I went to one, I just decided, these are really special places."
The National Park Service lists 391 parks, historic sites and monuments. Kissiloff's goal is to visit them all. He is currently at 152.
"As far as I know, no one has ever accomplished this before," he said. "There have been people who visited all 58 national parks, but I haven't found anyone else who has gone to all 391 sites."
In order to document his travels, Kissiloff began a blog called "From Acadia to Zion," found at www.acadiatozion.com, which lists all of the parks he has visited and his favorite activities in each location. It includes hundreds of photos as well.
Kissiloff said he was inspired to start the Web site after learning about the upcoming Ken Burns documentary, "The National Parks: America's Best Idea," which premieres at 8 p.m. Sunday on PBS.
"Ken Burns has always been someone I deeply respected," Kissiloff said. "He is an articulate and artistic documentarian who delves into complex issues and somehow makes sense out of them, all while still being entertaining."
Kissiloff met Burns in 2001 when Burns was a speaker for the Park Distinguished Visitors Series at the college.
"His film on the national parks is really interesting to me," Kissiloff said. "It's already generating a lot of buzz in the parks, in the media and online."
Almost a decade in the making, the documentary covers the history and evolution of national parks and public lands. In an interview with PBS in July, Burns said he decided to direct the documentary to preserve the American identity.
"At a park, we experience something that's collective," he said. "It's a commonwealth, and my goodness, especially today, we need that reminder of what we share in common."
Michael Smith, assistant professor of history — who specializes in environment and public history — said parks are important to have in a materialistic society.
"In an age of everything being for sale, it's nice to have places that are outside of that model of acquisition," he said. "National parks are also meaningful exercises in creating public space."
Kissiloff's fascination with the sites is apparent, from the maps tacked to his bulletin board with each park he's visited highlighted to the full-color panoramic landscape of Bryce Canyon National Park hanging above his desk. His first stop was the Grand Canyon 20 years ago. Over this past summer he visited 15 more sites, he said.
"I've learned to look for a sense of what's important about a place," he said. "Sometimes it's obvious. When you get to the Grand Canyon, it's like, 'OK, I understand why this is important.' But with something lesser-known, you don't really know what it's about until you go in and start exploring."
Kissiloff said now, his family accompanies him on most of his ventures.
"The first trip for my wife was around six years ago, so she has been to many of them, including our honeymoon in Alaska, where we visited five of them," he said.
His wife, Shelia Kissiloff, said one of the things that drew her to Ari was his interest in the preservation of natural resources.
"For almost as long as I've know him, this has been his passion," she said. "I feel like if anyone can do it, it's him. Once he makes up his mind about something, he makes sure it happens."
For Kissiloff, driving to all of these parks with his family is a part of the experience.
"The road becomes part of the site," he said. "Even if you didn't get out of your car, you're still there, visiting a national park."
Kissiloff said one time his family was within 10 feet of a black bear at Kenai Fjords National Park in Alaska.
"I saw a cub on the path and stopped walking," he said. "Then I heard a rustle in the trees, and suddenly there was [an adult bear] in front of me. So I just chilled out, didn't move, and it was fine. That was still the scariest experience at a site, especially since my family was with me."
However, for Kissiloff, a good trip doesn't need to have a lot of adventure. He said his visit is never complete without getting out of the car and taking pictures.
"For me, now, a visit [has] to include me standing there taking a picture," he said. "I'm missing some pictures from before, when I didn't know I was going to attempt to visit all the sites. In 1985, we didn't have cell phone cameras."
While Kissiloff has mountain biked, hiked, climbed, snorkeled and camped in nearly half of the national sites to date, he said one thing he does not do is stop at gift shops.
He said because parks are free, the only thing he brings back with him is a map.
With a stack about three-feet tall in his office, he said it is easy to remember his experiences at each place, even the not-so-famous parks.
Smith said lesser-known parks still provide a great atmosphere for visitors.
"With parks like Yosemite and Yellowstone, which are very crowded, it becomes a paradox because you want people to come, but then having too many people spoils the experience."
For Kissiloff, the reason he wants to visit all the sites is because nothing like them exists anywhere else.
"Parks are so different," he said. "That's why they're parks. Where else can you see these things?"