Caitlin McAtee worried about three things when she first stepped on Ithaca College's campus: boys, books and her belly. Not that the now-senior ever had a protruding stomach while at school, she just feared the reality of the "Freshman 15" lurking around the corner.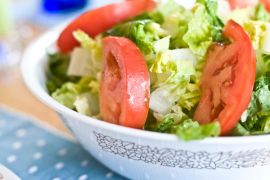 "I was so worried about the 'Freshman 15' that I was super careful," she said. "I tried to eat at school the same way I ate at home — three healthy meals a day and maybe a small snack or two."
The freedom freshmen discover entering college comes with a lot of hidden consequences. Suddenly, students can eat what they want when they want, which can lead to gaining weight and developing poor eating habits. But here in Ithaca, there are enough providers of homegrown food to keep students from falling victim to unhealthy cravings.
In a recent article in The Huffington Post, Ithaca was ranked the third best city in the United States for local foods. As the home of the Ithaca Farmers Market and an active "locavore" community, this city hardly ever lacks in fresh produce.
For students living on campus, eating at the dining hall might "save" more money, considering the bill has already been paid and having a meal plan is required. However, dining halls have a tremendous amount of food — healthy, less healthy and sugary — and taste buds they need to cater to. The biggest problem for students is eating too much of the "less healthy" foods, according to on-campus nutritionist Cathy J. Saloff-Coste.
"Particularly freshmen coming in have the hardest time," she said. "They are completely responsible for all aspects of their scheduling. They have to deal with when they are going to eat, when they go to classes, when they do their homework and when they go to sleep."
Saloff-Coste said finding the right time to eat is the first step in creating healthy eating habits. But the second step is actually planning out the meals.
"One of the hardest things is having healthy snacks," she said. "The reason is: If you don't have it in your backpack, then you go and grab whatever you can find." Packing a granola bar or some fruit before leaving the room can save students from buying a candy bar at a vending machine to satisfy their hunger, Saloff-Coste said.
Michael Welch, editor and publisher of Edible Finger Lakes — a quarterly publication that focuses on the local New York food movement and the green markets that surround the Finger Lakes region — said the best way for students to make sure they have healthy meals is to explore the food culture in Ithaca and visit the Farmers Market.
"It's a great way for them to not only see what's available but have conversations with the people who are behind the products," Welch said. "One of the fantastic things about the Farmers Market is that they require the producers to be there. So you can ask them a million questions: what to do with the food that they have available, how they grew it, what's going to be coming available soon."
Welch said even for students on campus who only have access to a small kitchen, buying better-quality ingredients makes for a tastier meal.
"When you're buying in season, the food that you're buying is much fresher and really doesn't need much preparation," he said. "For example, this time of year the local corn is available. If you buy it really fresh you don't even really need to cook it. It's fantastic raw."
Senior Katharina Carella said she loves to go to the Farmers Market because she prefers cooking, especially with the freshest, local ingredients.
"A lot of times the dining hall doesn't have as many vegetables that I want," she said. "Sometimes they only have one made. I like having more options with my food."
Saloff-Coste said the best foods to include in a meal are proteins, complex carbohydrates (like whole grains, oatmeal and potatoes), dairy, fruits and vegetables.
McAtee credits her athletic physique to healthy choices at the dining halls.
"The salad bar saved me," she said. "I try to eat one once a day."
Overeating at the dining halls is also an easy habit to develop when students hang around and chat after a meal, according to Saloff-Coste.
"It's nice to end your meal with some sort of ritual so that you know you have finished your meal," she said. "Then, try to sit away from the food so it's not so tempting."
She recommends having a cup of tea, or giving into cravings once in a while with some dessert.
"It's important to be able to say, 'You know what? I feel like a piece of cake,' at the dining hall," she said. "So you say, 'OK, I'll have it at dinner, and I won't have one at lunch.' It's a part of a healthy diet to enjoy and have pleasure in the foods you eat and to do it in a healthful way."
Julie Whitten, marketing manager of Ithaca Dining Services, said the dining halls are a great place to eat because of this year's selection upgrade. In Towers, a new addition to the Fresh Food Market section makes for an even healthier lunch option, she said.
Whitten said the organic station at the Towers Dining Hall is expanding with a special, monthly sustainable menu.
"The salad bar has hydroponic lettuce, which is lettuce that is grown in water and is actually grown here in Ithaca," she said.
McAtee realized the best way to stay healthy at school was to eat the same way she did at home when her parents cooked for her. She said healthy eating is all about self-control.
"Just because you have unlimited access to food in the dining halls, doesn't mean that you need to take advantage of it," McAtee said. "You don't need to eat everything you see."