The pleasant aroma of homemade lavender mint soap permeated the Cayuga Artisan Holiday Shop on The Commons as Tammy Alt browsed the merchandise Saturday, waiting for the right product to catch her eye. Shelves of colorful dishware, vibrant jewelry and knit wool clothing filled the store.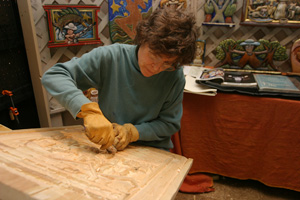 Alt, who is visiting from North Carolina, is one of many shoppers buying handmade gifts, rather than mass-produced items, this holiday season.
"I'd rather buy something that represents Ithaca to bring back home with me," she said.
Many believe the true spirit of Ithaca is best represented in the work of local artists, the individuals responsible for upholding the town's creative reputation. While these craftspeople make year-round efforts to sell their work, they tend to receive the most attention during the holiday season, a time when everyone is out buying gifts.
Freshman Brooke Reynolds, originally from Buffalo, N.Y., said she plans to do most of her shopping on The Commons. She hasn't bought holiday gifts from a mall in five years, preferring the work of local artists.
"It's unique, not a duplicate," she said. "Artists don't get enough [support]. Abercrombie & Fitch doesn't need any more patronage."
Whereas major retailers compete with one another to lure customers during the holiday season, local artisans work together to sell their products. Elise Skalwold of Nordskip Designs is one of dozens of artists who sold pieces at the Ithaca Potters' Guild Holiday Craft Fair this past weekend at the Women's Community Building in Downtown Ithaca.
"There's certainly a wide selection," she said, noting the three full rooms of artists with display tables. "We have quite a few jewelers here, but we're all different."
By shopping locally, customers commit themselves to the town, helping to sustain one of its best-known industries. Most local artists rely on funds gained during the holiday season to live on through the winter.
Financial struggles often hinder the work of artists, as Jennifer Kimball of the Pyros Glass Studio said many local merchants cannot afford to open their own shops in town. She said they would like to share their products with as many people as possible, but don't have the means to be that accessible.
"[Craft fairs] provide a rare opportunity for many artists," she said. "It's beautiful that they can come out and share their work."
Artists selling their work in Ithaca said they believe shopping locally is beneficial to the customers and merchants involved.
Bill Davis, a local animator and illustrator, began making pottery in August 2005, using his love of storytelling as inspiration. His more "jovial" pieces — brightly colored bowls with expressive and often ridiculous faces on the front — reflect his sense of humor. Davis and his wife, Colleen, who specializes in crochet, sell their artwork at the Cayuga Artisan Holiday Store. Bill Davis sees the benefits of buying from local potters, rather than purchasing dishware at a chain store. He believes it is important for each piece to look and feel original, as opposed to something stamped out from a mold.
"You're getting something that's unique and handmade," he said.
The store, which artists have rented out for the past five holiday seasons, features the work of 15 local artisans, all who live within 20 miles of The Commons. The artisans not only display their work, but run the shop, as well. Colleen Davis noted that while more locals typically browse through the merchandise, there are also plenty of college students. She said the most popular items they purchase are honey, candles and jewelry, many of which are priced under $10.
"They don't go for the bigger things," she said. "They're usually there for the smaller stuff. The two weeks before Christmas may bring them in to buy things for their parents."
A special connection forms when a thoughtful handcrafted holiday gift is purchased from a face, rather than a name or, as Bill Davis said, from "just another person in a gray suit."
David Kingsbury of Turtle Island Pottery said he believes that customers benefit from buying local merchandise for the holidays because they can learn more about the product and the artist. Unlike dime-a-dozen items manufactured by big companies, local artists are directly accessible should customers want to discuss their holiday purchases.
"I always appreciate the feedback," Kingsbury said. "It means a lot to me. … And in case something should go wrong with the piece, I'm right here, available to make it work."
Kingsbury said he takes special requests from customers with whom he has developed a healthy rapport. This bond allows customers to learn about the artist behind the piece.
Mary Michael Shelley, an artist who specializes in painted woodcarvings, said buying from local merchants helps promote individuality. Each product is drastically different than the one next to it on the shelf. This is particularly true during the holiday season, a time in which people find comfort in home-style creations.
"The world is filled with franchises," Shelley said. "[But this is] the real thing. It's genuine."