To the unobservant eye, Home Dairy Alley is a dark, empty gap between Maté Factor and Center Ithaca. But beyond this breach is a paint-chipped door leading to a hidden gem: Cinemapolis, Ithaca's nonprofit independent movie theater. The two-screen theater is as mysterious and interesting as the movies it shows.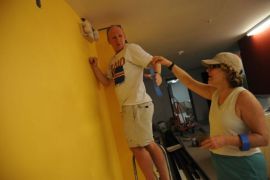 Sophomore Brad Collins said the theater is easy to miss.
"It feels very much like it's under The Commons," he said. "There's a little sign that says 'Cinemapolis,' but even with that, I wouldn't think that there was a theater under there. You have to be told about it."
To founder Lynn Cohen, the excitement of finding the underground theater keeps customers coming back for more.
"It makes people feel like they discovered a secret," she said. "When you see great films at a place, you start to get attached to the place."
Next month, the theater will close its steel door for the last time and will join with three-screen Fall Creek Pictures in a new home on Green Street. The new theater will open on May 27. The building will feature five large screens, more seating and popular concessions at the snack bar.
Developers are still discussing ticket prices for the new theater. The current price, $8.50, is subject to change. Fall Creek also plans to continue business for about a week after the new theater opens, but nothing is definite.
"The City of Ithaca wanted to have a new downtown theater, and we didn't want to have another theater right next to Cinemapolis," Cohen said. "So we just kind of lobbied to have the city encourage the developers to build for us rather than an outside theater chain."
Cohen and partner Richard Szanyi started Cinemapolis in 1986 as a one-screen, nonprofit theater designed to bring lesser-known independent movies to the Ithaca community. Tsvi Bokaer founded Fall Creek, also in 1986, to show old movies. Now both show independent movies, such as "Slumdog Millionaire," "Gomorra" and "Hamlet 2." The theaters are the only venues for the Ithaca community to see independent pictures.
Sophomore Morgan Pepper said she was pleased to hear the developers of the new theater are continuing to appreciate independent films.
"It's just nice that they're not spending money on outrageous things; it's for the public," she said. "The independent movies are really good, but they don't get enough recognition for how awesome they are."
This community vision is what Cinemapolis worker Bob Schultz '93 likes best about his job. Schultz said the staff's passion for film is how Cinemapolis offers a more personal experience for moviegoers than a chain multiplex.
"The personality has a lot to do with it," he said. "We hire people who enjoy film and enjoy talking about film and enjoy educating about film, which allows us to have a personality as an organization that people feel welcome to come into."
This "personality" also applies to the films shown at the theater. Though most of the movies have lower budgets and less advertising money, Schultz believes they are sometimes better than the more mainstream movies. He said there is a certain romance to independent films that bigger "blockbuster" movies fail to possess.
"You can find these $200 million epics that literally recreate the battle of Troy, but everyone who's seen it knows that 'Troy' is a terrible movie," Schultz said. "By showing smaller films, foreign films, documentaries, we pay attention to the craft and the art of filmmaking and give it an opportunity to be shown."
Schultz said the workers at Cinemapolis are knowledgeable and, by recommending films to patrons, they build a trust and bond that other theaters don't offer.
"Everyone who works here makes the effort to see all the movies, or as many as we can with our busy lives," he said. "And if we can't see them, we read up on them so we can recommend them to people. I don't feel that you necessarily get that at a corporate movie theater."
Overall, the theater's focus on spreading the joy of independent theater is what Schultz said keeps Cinemapolis so popular.
"[Corporate theaters are] just selling a commodity, whereas we are really big believers in film," he said. "It's like the difference between working at an art gallery and working at a paint store."