All of the drama, love and despair of the Orpheus myth return to Ithaca College for a third time. After staging "Euridice" in 2009 and "Metamorphoses" in 2008, the theater department takes on the Italian opera "L'Orfeo" by Claudio Monteverdi, another retelling of the tale.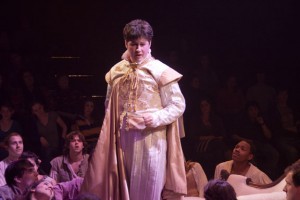 At two hours in length, this rendition combines gaudy aspects of post-Renaissance culture with modern pizzazz with a large cast of 48.
Written in 1607, "L'Orfeo" is one of the earliest operas still performed. Sung entirely in Italian with English supertitles, the college's theater and music students combine their talents to bring Monteverdi's opus to life. Set in an ethereal world of pleasure,
Orpheus — also known as Orfeo — has his life torn apart when his bride Euridice dies. The opera focuses on his dangerous journey through the Underworld to try to rescue her while grappling with his own inner demons.
Director David Lefkowich, a music performance lecturer in the school of music, said his vision livens up this baroque opera. It calls for an emphasis on movement, intimacy and flexibility.
"Usually with opera there is quite often an expectation that it will be grand and stuffy and pompous," he said.
Brian DeMaris, assistant professor of music performance and music director, said he worked to create a world that doesn't feel old-fashioned.
"I want the audience, even if they don't know a word of Italian, to be effected by the delivery of the text," DeMaris said. "The opera is essentially about the power of music."
Junior Nathan Murphy, who plays the ferryman Caronte, said the cast has come to learn the Italian text well throughout the rehearsal process. He said DeMaris' knowledge of the score stresses also helped them learn.
"It's an Italian text so we all have to know our text very well — what each word means — to really get the essence of the acting," he said. "Everybody is familiar with Italian at this point."
Period instruments such as harpsichords help to communicate the characters' emotional highs and lows. The emotionality of the music meshes well with the intimate 220-seat Clarke Theatre. The design team adjusted to the tight space by using a fleet of multi-use props, creative ways to position actors and a layered lighting style.
Junior Aaron Porter, lighting designer, uses shadow, hue and texture to help illustrate how events unfold.
"I'm also listening to what the music's doing," he said. "When it grows I'm trying to respond to that with light and really create a fuller, more in-depth look at what's going on."
Senior Daniel Bates and junior Alex Canovas, vocal performance majors, alternate playing the role of Orfeo. Senior Katie Henly and junior Ana Strachan, also vocal performance majors, share the role of La Musica, the spirit of music. The two roles are shared in order to preserve the actors' voices because their vocal chords take a lot of abuse.
Canovas said he grew as an actor while splitting the role with Bates and was able to improve his own interpretation of the role.
"We learn from each other," Canovas said. "[Bates] and I have strengths in such different areas, but that has made us the best Orfeo that we can be."
On his nights off, Bates watches his counterpart intently in order to see little things that could help better his own performance.
"It's mainly for us to see the visual aspect of what we can't see when we are on stage," he said.
Senior Nik Taylor, the scenic designer, said he created sets for the opera that contrasted well with each other. Taylor's apt sense of style creates conflicting environments like the broken, ghastly yet impenetrable hell and the gloriously giddy earth.
"[Earth] is happy, white, luscious and colorful; but in hell it's the complete opposite — it's burned, it's destructed," he said. "That's really what we need the audience to have subconscious emotion towards."
Senior Kelsey Burston, assistant director, said Lefkowich added modern action and fight sequences to help college students better relate to the story.
"A lot of people here haven't seen operas or haven't been exposed to operas, so we want to show them how awesome opera can be," she said.
"L'Orfeo" opens at 8 p.m. today in the Clarke Theatre. The opera runs through March 4.