In a lavish party on Manhattan's Upper East Side, the tall, thin, attractive brunette Penelope and the petite, blond-haired, blue-eyed Hazel stand around sipping light pink cocktails out of martini glasses. Wearing matching ribbons in their hair, heavy pearl necklaces and couture dresses designed more for supermodels than high school girls, they crowd around the younger Jenny as they quiz her for the juicy details on supposedly having lost her virginity.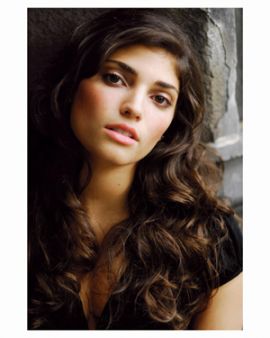 "So was it as special as you'd hoped it would be?" Penelope asks eagerly, batting long brown eyelashes.
"Yours totally wasn't," Hazel mutters.
"And yours was?" Penelope responds quickly, on attack.
The two discover that Jenny's tale was a lie by the episode's ("All About My Brother") end, a spectacular revelation made by Blair Waldorf in the party's closing scenes.
The show, Gossip Girl, is a high-paced drama surrounding the lives of an extremely attractive group of prep school kids on the Upper East Side. The role of Penelope is played by Amanda Setton '07. She is a member of the clique caught in a power struggle between its leaders: Leighton Meester's character, Blair Waldorf, and the younger Jenny Humphrey, played by Taylor Momsen. In the show's first season, Setton appeared in five of its episodes.
Four years ago, the Great Neck, N.Y., native was a sophomore drama major at Ithaca College. In taking the steps towards advancing her lifelong goal — to one day land a role in television or film — Setton enrolled in the Actor's Workshop of Ithaca for an experience that would transform her life.
Under the direction of the workshop's founder and director, Eliza VanCort, Setton studied the Meisner Technique, which helped her gain the vital acting skills she would need to enter a career in film.
The Meisner Technique focuses on training actors on their ability to live truthfully in the moment, no matter what situation their character may be in. VanCort founded the workshop seven years ago after she studied the technique at the Actor's Workshop of Boston.
VanCort met Setton after giving a demonstration of the workshop's two-year program at the Roy H. Park School of Communications in 2004.
"My eyes scanned the audience and there was this stunningly beautiful young woman sitting with a few film students," VanCort said. "Many of the other students looked a bit shocked or intimidated, but Amanda was rapt."
Setton completed the workshop's two-year program during her senior year. By August 2007, less than two months after graduating from the college, Setton signed with Cornerstone Talent, a small agency based out of Manhattan that caters to 75 professionals working in film, television and theater, including Sara Ramirez from "Grey's Anatomy" and "The Sopranos'" Dominic Chianese.
Out of dozens of applicants hoping to sign with Cornerstone, Setton was one of two actors the agency picked up that year.
"She didn't take long," a representative of the agency said. "'Gossip Girl' happened fairly fast. She made quite a splash with the people at Warner Bros. when she went in to audition for something else and from that, slowly, the 'Gossip Girl' thing emerged."
Before premiering her preppy character, Setton booked minor roles in two large studio productions. In "What Happens in Vegas," starring Ashton Kutcher and Cameron Diaz, Setton has a scene in which she seduces Kutcher into letting her into his apartment, after which she and a group of "hot girls" proceed to take over his space and have a pillow fight.
Less than two weeks later, Setton booked a role in the "Sex and the City" movie playing a girl who slaps her boyfriend outside of a nightclub after discovering he's married during Sarah Jessica Parker's opening monologue.
"It was an incredible experience to even be on that set just for one day," Setton said.
Setton's agent at Cornerstone said he envisions a steady growth in her career in the years to come.
"I'm hoping that we'll go from 'Gossip Girl', where she's not one of the leads, to a series or a film or a play where she is," the agent said.
Setton has seen the fame of her fellow cast members rise to superstar levels since joining the show last October.
"I've been recognized, and I have been hounded a couple of times, but I can't imagine being Blake [Lively] or Leighton [Meester] or Chace [Crawford]," Setton said. "It's just insane for them."
As a student at the college, Setton completely immersed herself in working on student films to better hone her acting skills.
"I started getting my hands on any projects I could find," she said. "A lot of my friends were film students so we'd get together and mess around with a camera in the [Garden Apartments]. I did as much as I possibly could to gain more experience on how my angles were on camera and what lighting worked best."
Cathy Crane, assistant professor of cinema, photography and media arts, worked with Setton through placing her in films produced by her students. In addition to directing her on such films, Crane took a semester of the Actor's Workshop with Setton.
After working with Setton both onstage and from behind the camera, Crane said she is not surprised by Setton's success in gradually breaking into the industry.
"I just can't wait till she has a role where you can really see her vulnerability," Crane said. "She is so beautiful that it's disarming, and the fact that she is quite capable of being raw and vulnerable in that space is one of those combinations that's an ideal cinematic fantasy."
"Gossip Girl" returns on the CW on Monday for its second season. Setton reprises her role in at least four episodes that have already been filmed and upcoming episodes to be shot in the weeks to come.
"Penelope will be back in action," Setton said. "She's vicious as ever."