After only six rehearsals the newly formed Ithaca College Sinfonietta already has chemistry. At its practice on March 17, the sections came together to manifest the provocative piece, "Overture to Coriolan" by Beethoven in a way that presented the vengeful mood of the Shakespeare play "Coriolanus." The piece is one of four in the group's repertoire to be performed at its first concert on Tuesday.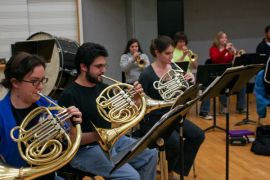 The group practices only once a week, while other campus ensembles — like the Symphony Orchestra, Wind Ensemble, Concert Band and Symphonic Band — rehearse at least twice a week. Also unlike other ensembles, the sinfonietta is directed by two Ithaca College graduate students instead of a faculty member. Jeffery Meyer, assistant professor of music performance, is the sinfonietta's faculty supervisor.
When they formed the group three months ago, co-music directors and founders Jesse Livingston and Kevin Ryan decided to limit the number of rehearsals because they knew some students couldn't commit to intense practice schedules.
"We wanted to create an opportunity for people who just loved to play and wanted to pick up their instruments again without having to commit to the normal rigorous rehearsal schedule [of a symphony]," Livingston said.
He and Ryan manage everything from selecting the players and the music to organizing rehearsals, publicizing the group and even conducting it. The two take turns conducting, which Livingston said is a rewarding challenge that lets them both play an intrinsic role in all aspects of the group.
The sinfonietta — which is a smaller version of a symphony orchestra — is made up of about 45 students, music majors and non-music majors alike. Though all members have had formal training, some haven't performed their instrument in years.
The process of joining the sinfonietta was relatively easy for students who heard about the group through announcements Livingston and Ryan sent out on several listserv and posters they hung around the Ithaca campus. With no audition process, the group welcomed any student musicians that were interested.
While some sections, such as winds, filled up fast, string players were trickier to find. Livingston said this is because most of the string players who are music majors already participate in the college's Symphony Orchestra or Chamber Orchestra, so they're not usually looking to participate in another orchestra, like wind players are.
"Recruiting players is always difficult because it's all volunteer, and there's no credit involved," Livingston said. "They're doing it just because they want to."
Livingston said recruitment wasn't the only difficulty. Choosing music and conducting such a diversely talented group of musicians was also challenging.
"There are some players that are some of the best musicians in our school, and there are some who haven't played in a long time," Livingston said.
Cornell freshman Ted Esposito heard about the sinfonietta from a friend. He said he was impressed with the manner that both Livingston and Ryan manage the group and said they were helpful in bringing out the deeper meaning in all the pieces.
"With choosing music, they were very efficient," Esposito said. "We have music that's quite doable but still interesting."
Livingston said part of the decision to open the group to Cornell students was an effort to attract more musicians while keeping the sinfonietta a student group.
"There aren't a whole lot of things that cross bridges with Ithaca [College] and Cornell," he said. "We really wanted something that could cross schools."
Ithaca College freshman Yeana Hyun has played the violin for 11 years and joined the sinfonietta so she could continue playing without having to commit to rehearsals that often conflict with her schedule. She said she enjoys the opportunities that come from the mix of students from both hills.
"It's just good to mix on a social aspect," Hyun said. "It's always good to meet new people with a love for music."
Tuesday's concert will be the sinfonietta's first performance for the public. Livingston said he is eager to see the musicians make music together — some of whom are playing in an orchestra for the first time.
"Kevin and I are both really excited to just have a group that is our own," Livingston said. "I'm also eager to see people's reactions and see the word get out about the group."
The Ithaca College Sinfonietta's concert will be held at 9 p.m. Tuesday in Ford Hall in the James J. Whalen Center for Music.