Junior audio production major Peter Motzenbecker has created a small, independent label ready to grow, combining his love for music and the environment into Forestry Records.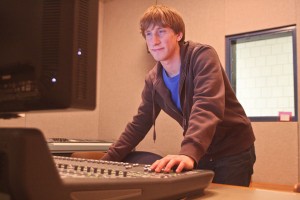 "There's a certain oneness with the forest that humans need to understand," he said. "We need to understand that we're not the only ones in the world."
Recently, Motzenbecker's vision of developing a group of talented, new musicians became a reality with the launch of Forestry Records and his Web site, www.forestryrecords.com.
Motzenbecker started the label to sponsor, record and manage up-and-coming artists.
Aside from his love for nature, Motzenbecker also has a passion for music, which he attributes to his family. He said his family listens to a vast collection of albums from Joni Mitchell to The Beatles. Motzenbecker even credits Apple Records, The Beatles' self-started record label, as an inspiration for beginning Forestry.
"Their main focus was to find world music and lesser-known artists they could bring to the spotlight through their name," Motzenbecker said. "They formed the idea of representing lesser-known talent rather than technologically-dependent musicians."
Motzenbecker is a guitarist and pianist, who started his first band called The West his senior year of high school with a group of friends. In his sophomore year, Motzenbecker recorded a few songs for a friend and developed a style of his own.
"Each song on an album is a completely different element in itself," he said. "I personally take every song as its own quality and entity."
Motzenbecker currently oversees four artists: The West, his former band from high school; June Bloom, a local group of friends from his hometown; Josh Rothman, a junior audio production major and guitarist; and D. MOTZ, Motzenbecker's brother. By joining Forestry Records, artists record with Motzenbecker for free, post and market full versions of their tracks online and receive 60 percent of all profits.
Motzenbecker said understanding the value of the environment does not end with his label name. He plans to donate 20 percent of his profits to UNICEF for Haiti in the coming months. He said he hopes to enter the Peace Corps after college.
"I want to be a socially responsible record label," he said. "I don't need the money as much as other people do, so why not donate some of the money to people who actually need it?"
While the site is still a work in progress, Motzenbecker said he hopes to expand to other forms of media with animation or motion design. He also wants to sponsor 10 new artists and 20 to 30 more releases in the next five years to build a "core family" under one brand name.
"If you have a bunch of different individuals trying to do their own separate thing, they're not going to be able to build as much of ground base," Motzenbecker said. "Whereas if you have numerous people coming together, you can build one big name. From there, people can discover new, related artists."
Rothman, a good friend and recent client of Motzenbecker's, said he is looking forward to releasing his songs on the Web site and is excited for customers to buy digital copies of his songs. During spring break, he and Motzenbecker worked together for the first time recording new material for the label.
"It can be a really creative process for both of us," he said. "I'm looking forward to see what he can add to my songs and ideas that we can come up with together. When you're locked in a room with someone listening to the same thing, ideas come easier, and it makes for a stronger sound."
Motzenbecker also impressed his professors with the quality of his work. Jon Hilton, instructor of television-radio, Motzenbecker's former audio production professor, said with today's rapidly changing media, Motzenbecker's site will do well if he can build a strong base and stick with his label.
"He is a good-natured guy, and I'm glad to hear he's started his own business," he said. "I always encourage students to start their own business. You may be able to make a living with your own freelance business if you can't find a job."
For now, Motzenbecker enjoys filling his free time with Forestry Records.
"I'm interested to see where this goes," he said. "I'm not trying to make a living off of it, but it's something I can do now."