Elderly women don't usually fit the bill for deranged murderers. However, characters Abby and Martha Brewster, two old spinsters, successfully kill a succession of lonely old men in the play "Arsenic and Old Lace," written by Joseph Kesselring in 1939.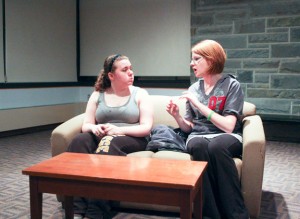 By poisoning the tea they serve their unsuspecting victims, the crazy Brewster sisters believe they are compassionately putting elderly victims out of their misery by ending their lives.
Standing Room Only Performing Arts Company will perform "Arsenic and Old Lace" tomorrow and Saturday. Besides following the escapades of the two eccentric aunts in the 1940s who poison forlorn and unloved men, the play also chronicles the trials of their long-suffering theater critic nephew who must face problems concerning his fiancée and extended family.
"Arsenic and Old Lace" is the second show SROPAC is presenting this semester. Unlike many of the other theater organizations on campus, SROPAC has no cuts, meaning everyone who wants to participate in a show can.
Sophomore Pascale Florestal, the director, said she has enjoyed working with such a hilarious script. She said directing the show has been a pleasant surprise.
"It's different from what I usually direct," she said. "But it's one of those shows where the audience will come and have a good laugh."
Florestal, who was one of the founding members of SROPAC, which started in Fall 2009, said she appreciates the equal opportunities SROPAC provides for all students at the college.
"As a theater major, I know how tough it is to be cast, to do shows, so I like that everybody can have the chance to be a lead or just to be on stage," she said.
This philosophy proved true for sophomore Caitlin Ghegan, who plays a lead role of Abby Brewster, one of the kooky aunts. One of the things that Ghegan said she enjoyed about working in the show is the camaraderie among the close-knit cast.
"I really like the chemistry we have as a group," she said. "We joke around a lot. We get everything done, but we have fun."
Ghegan joined SROPAC last spring, and  this year she will be performing in her first role as a main character. She said she likes the quirky element of dark comedy in this show and the appeal of the classy 1940s era.
"It has a lot of really quick, witty dialogue and this crazy sense to it," she said. "It really is a different taste of theater than what the other groups are offering right now."
Freshman Katy Newton had a similar experience. Though she joined SROPAC this past fall, Newton will be performing a major role as the nephew's fiancée in "Arsenic and Old Lace." She said the comedy noir feel of the play is relatable to audiences.
"It's been really fun to do a period piece," she said. "It's still really funny even though it was written a long time ago. It's timeless humor; it's a farce. It's really quick-witted, and there will be a few surprises."
The entire play takes place in one location — the Brewster's living room — making the Clark Lounge an ideal venue to set the show.
Florestal said she chose to direct the play because she was drawn to the over-the-top comedy and appeal of the script. She said while the circumstances are absurd, the play is still relatable.
"It's one of those shows where unrealistic things that don't happen in real life happen," she said. "It's a feel-good show for any age, which is something that I really like."
Sophomore Luke Sisson, who plays the beleaguered nephew of the crazy aunts, said while preparing for this role was difficult, he learned a lot from being part of the cast.
"I had to memorize a lot of lines pretty quickly, but it's all part of the experience," he said.
Newton said people should attend the show because it's affordable entertainment and a great way for students to show support for their peers. She said the play offers a humorous look at elderly women, life and love in general.
"If people come, they definitely won't look at old ladies the same way," she said.
If you Go
"Arsenic and Old Lace"
When: 6 p.m. tomorrow and
8 p.m. Saturday
Where: Clark Lounge
How much: $5