"Buenos días," "Bon après-midi" and "Gute Nacht" — or good morning, good afternoon and good night in Spanish, French and German, respectively — are greetings that are becoming less and less foreign on campus. As the language communities' presence continues to grow, these phrases grow louder.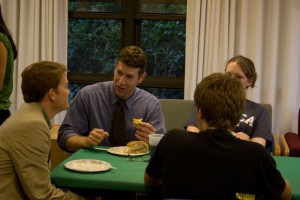 Together, Vecinos, Quartier Français and Stockwerk Deutsch make up the college's three residential language communities, each with its own cultural alcove in Terrace 7. This year, the communities have undergone change, expansion and development.
As new offerings on campus during the 2009-10 academic year, Quartier Français and Stockwerk Deutsch are still in their infancy and are therefore still developing.
For Quartier Français, there has been a significant addition to the community's staff. This year they have a dedicated language assistant, sophomore Briana Bender, to facilitate cultural programming, which they did not have last year.
Quartier Français faculty fellow Mark Hall said without an assistant, the community did not evolve into all he had hoped for.
"We've been working together … to build a community that we had hoped would have been built last year but just didn't happen," Hall said. "We're continuing this year, but in many ways it's the first year of Quartier Français."
James Pfrehm, Stockwerk Deutsch faculty fellow, said he plans to add more academic flair to the German community than it had last year.
"I'm going to try to get speakers to come and give a talk, possibly on architecture in Germany," he said.  "That's going to be something new, something a little more scholarly."
Vecinos has been around since 2006 but was cut last year so the program could reshape its recruitment process and relocate from Terrace 11.
Vecinos faculty fellow Annette Levine said this is going to be a particularly active semester in terms of speakers — ranging from filmmakers to authors — planning to visit the language community.
Previously, the fellows pre-arranged for faculty to give presentations in the community lounge. Now, inviting a speaker is left up to the students.
Levine said without involving the students in scheduling, they may not be available for the events.
"We run the risk of a faculty member coming to campus in the evening, going to the lounge and then there being only a handful of people," she said. "It's hard to bridge the divide between the dorms and the academic world."
Hall said he hopes Quartier Français will become more visible on campus and will attract students who are interested in French and the language community as a whole.
"There's not a wall around Quartier Français," he said. "The door is wide open. You can go in and you can come out."
Academic opportunities have enticed language community residents. Freshman Elyse Hornstein said she joined Quartier Français because it provides the opportunity for her to learn and practice French on a daily basis.
"I figured this is a nice way to keep [speaking French] without taking a class," Hornstein said. "And then I can start a new language and still practice French."
Sophomore Reisy Veloz, the resident assistant for Vecinos, said she hopes to see the residents' language abilities develop, while still creating as comfortable a community as possible.
"The bigger goal is to get [the residents] to live as though this were their home away from home," Veloz said
Ronald Trunzo, associate director of residential life and judicial affairs, said these language communities are important on campus.
"The language communities provide students with yet another
option for their housing," Trunzo said. "Part of the reason for them being in place has been interest both from faculty as well as students."
Pfrehm said the language community as a whole is a place for intercultural exchange and exploration. Through all the changes, each language house will develop differently in the future.
"We want to create a space where people can explore their interests if they so like, and we're going to give the parameters for doing that," Pfrehm said.