On the fretboard of a virtual guitar, notes flashed on a projector in front of sophomore Pat Hulse. As they slowed down, Hulse turned his back on the video game, "Guitar Hero II," playing a short interlude of the Allman Brothers Band's "Jessica" from memory.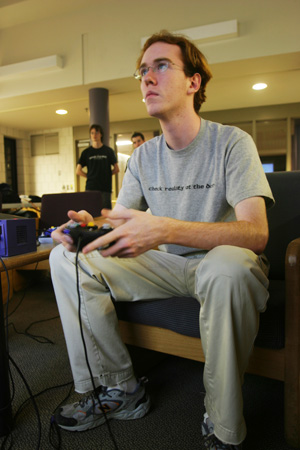 Meanwhile, 20 other Ithaca College students sat locked in an epic battle Friday on MUGEN, a multi-player online fighting game. Armed with only their laptops on the table (and Chinese food and caffeinated drinks as their energy sources), they strategized their next moves.
For gamers, the scene of a party like this is all too familiar. Junior Nate Burba set up a local area network (LAN) in Emerson Hall so anybody with a computer and Internet cable could plug in and play online games with the group.
"People are … finding ways of getting together, in bigger and better ways with technology, LAN parties of a thousand people, 10 thousand people, ridiculously sized LAN parties in Texas and Sweden," Burba said.
Whether it's 20 college students or 2,000 people, gamers are playing in mass together more than ever. Even tournaments are growing. Online, casual gamers are joining video game connoisseurs, which is helping to boost the online community. Expert gamers are being seen as more in the mainstream.
And with the recent release of the Nintendo Wii last semester, longtime gamers are finding more and more people with whom to share their love of gaming. The Wii uses motion sensitivity to promote physical involvement and group interaction in game play.
Kim Gregson, professor of television and radio and an authority on video game technology, said while the social part cuts through all games, the party aspect is bigger on the Wii.
"Everybody talks about how gamers are loners, but social games are huge," Gregson said. "Six million people playing World of Warcraft, they're not playing by themselves."
Instead of pressing buttons on a controller, gamers are actually hitting tennis rackets and playing guitars. With "Wii Bowling," it might not be the same as pulling the ball back and thrusting it toward pins, but it gives gamers more control. Gregson said the system took a big chance.
"It really was this whole change in philosophy, change in how they saw the gamer, as more going for the fun aspect," Gregson said.
Technology has made today's gaming culture more accessible for anybody who wants to play. Four-player games have helped. Sophomore Alec Humphrey said the Internet is an extension of group play.
"The social aspect is awesome," he said. "With the Internet there's a lot of need to talk to someone in California instantaneously and play a match with them, and the entire element that you get into this big game with 20 other people, and you attack each other and battle each other for two hours."
More hands-on games like "Guitar Hero" have a greater appeal and interest to those who might not play video games every day. At the LAN party this past weekend, Humphrey won the tournament for "Super Smash Brothers," a game that combines famous characters from other games to fight each other. Humphrey said he enjoys the interactivity of the Wii.
"I feel like it could change gaming a lot but hasn't yet," he said. "The motion sensitivity is awesome, but it's yet to have a game for it that's going to be so amazing that other systems have to jump on the bandwagon."
Now, almost every game has an online component. Burba said there's a whole culture bred around Internet gaming.
"The culture's built up around people playing but not actually being in the same vicinity, playing online with each other," Burba said. "We talk like that while we're standing next to each other. It's kind of ironic in that way."
Online and offline games, whether they are multiplayer or single-player games, serve their own purpose. More experienced gamers may be content to sit for hours playing against the computer. And while there is a social aspect to online games, it's not always about meeting people, Burba said.
"You play single-player games kind of like you're watching a movie by yourself, or you're reading a book," Burba said. "And then the online games, it's … more of a bloodthirsty fix."
The company Harmonics, which made "Guitar Hero" and "Guitar Hero II," plans to make a game called "Rock Band," where gamers could play different instruments and perform songs as a full band. Hulse said they wanted to make equipment and not a video game.
"They wanted to make people who weren't [putting] the work into learning how to use instruments the ability to enjoy the sort of magic that is making music," he said.
But for Gregson, it's about living out the dream. It's about playing in the rock band, making the avatar jump. She said it's about gamers telling their own stories.
"You watch TV and they tell you a story," Gregson said. "You play a game and you make the story."