For the past month, 24 seniors have spent their scarce free time between classwork and shows looking over old acting review scenes, searching plays for their ideal monologue and listening to countless Broadway soundtracks in the hopes of finding the perfect character to play. This is not for a show, but for the Ithaca College Theatre Arts Department Class of 2012 Senior Showcase.
Each year, the college's theater arts department holds a showcase in New York City composed of the graduating musical theater and acting majors. Invited are more than 200 industry professionals — casting directors, agents, managers and producers. This year's showcase features 24 musical theater and acting majors who are preparing throughout the weeks ahead.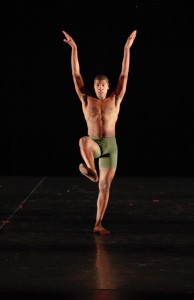 Senior acting major Hallie Peterson is one of them.
"It's important to show material that you like to do, that you can do and that you could feasibly be cast in," Peterson said. "Showcase is about seeing where you fit in, in the professional world."
Peterson said the outcome of the showcase is difficult to predict. Her performance could book her auditions or even meetings with agents. But, it's just as possible that she will hear nothing.
However, Peterson is lucky — she knows exactly what she's going to perform. Her classmate, senior Max Lorn-Krause, along with many other acting and musical theater majors, continue to search for new material.
"The writing has to be good," Lorn-Krause said. "It has to be for your type. It's not about whether it's the newest thing on Broadway or if it was done 400 years ago."
Some of the material the actors consider is from performances from their past four years at the college. Lorn-Krause has a monologue about socks that, without exception, is always met with laughter and positive feedback. However it poses one major problem — he hates it.
"If you don't love your material, why would you do it?" Lorn-Krause said.
Despite objections from his professors and classmates, he's still exploring other options. This involves researching anything from shows he's performed in the past to reading new plays or finding material from plays he sees in his free time.
Lorn-Krause said monologues are great because they're 60 seconds where everyone is focused only on the actor, but scenes are important because people want to see that you can interact with others successfully on stage.
Much can be decided in a very short period of time, as most casting directors need less than the allotted time limits to develop an opinion.
"It comes down to the first 10 seconds," Lorn-Krause said. "Just watching for the first 10 or 15 seconds they can tell if it's going to be good or not."
Each actor performs two pieces — songs, duets, monologues or scenes. Senior acting major Elizabeth Ellson is looking for scenes from television and film.
"I love the stage, but I want to explore my options," Ellson said. "Television and film scripts are less likely to be overdone in audition or showcase settings, which makes them attractive as material."
Peterson, Lorn-Krause and Ellson are only three of the 24 performance majors from their class. As they choose material, rehearse with their scene partners and plan for their May trip, they also try to realistically manage their expectations.
While the idea of performing in front of an audience consisting of industry professionals is at once glamorous and daunting, Peterson reminds herself that it is one audition of many that these performers will do in their lifetime.
"Success, for me, would be to get some sort of positive feedback, even if it's just one phone call," Peterson said.
While any of the actors would certainly hope for the best possible outcome from their showcase — an agent, or perhaps an audition for an up-and-coming production — most agree that they just want to show their best.
"For myself, success would be to portray my best possible abilities," Ellson said. "I would like to walk away from showcase confident in my performances and ready for the next opportunity."
The Senior Showcase will show at 3 p.m. and 6 p.m. May 15 at New World Stages, Stage 2 in Manhattan.