While hundreds of ravenous college students crowd the dining halls during peak dinner hours, students in the Sustainably Conscious Living Community gather to enjoy a freshly cooked, healthy dinner in the comfort of their own residence hall.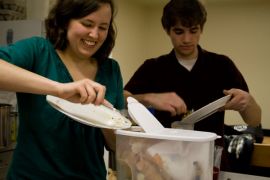 Students can expect perks such as floorwide dinners twice a month in the sustainable community, one of the many living communities Ithaca College offers.
Each community aims to bring together students who want to learn more about the theme of the dorm. Though each community — Housing Offering a Multicultural Experience, the Outdoor Adventure Learning Community, the Sustainably Conscious Living Community, the First Year Program and Vecinos — matches living environment to lifestyle choice, whether students leave programs influenced by an enriching experience varies from dorm to dorm.
In the H.O.M.E. program in Terrace 3, students' social lives delve into the exploration of diverse cultures.
Freshman Amber Hammonds, who lives in the H.O.M.E. program, said her experience helped her realize the campus is more diverse than she initially thought.
"When I first got [to Ithaca], I got thrown off and disappointed by the lack of minorities on campus," she said.
But living in H.O.M.E. has given Hammonds an opportunity to learn about different cultures through international dinners and diversity-themed events.
Hammonds said program events such as diversity bomb shelter — a role-playing game that confronts social stigmas — spark dormwide discussion.
Once students commit to the community, the idea is that learning and growth will inevitably occur.
Sophomore Jillian Rubin, who lives in the Sustainably Conscious Living Community, said using a timer in the shower helped her make environmentally sound choices when it came to her water usage.
"People used to take half-hour showers, and now it's really not that difficult to take a five minute shower and still be clean," she said.
A semester or two in Vecinos, the Spanish language community, may help students do more than just make small lifestyle changes. Annette Levine, associate professor in the modern language department, said students in Vecinos will take away much more than a basic Spanish experience.
"It is not simply a 'Spanish floor' as some have called it in the past," she said. "It is a program devoted to Hispanic cultures and the Spanish language."
Like Hammonds, students in the Outdoor Adventure Learning Community enjoy living with people who also want a dorm experience tailored to their interests.
Freshman Kaitlin Hibbs said her peers in the Outdoor Adventure Learning Community were part of a community that allowed them to go above and beyond and plan their own socially active events.
"It's a good place to meet other [like-minded] people," she said.
During fall break, Hibbs and three people from her floor traveled to the Adirondacks and climbed the second highest peak in New York.
For students in the sustainable residential hall, living there is about more than just five-minute showers — it's about community.
Rubin said they not only work together to cook health-conscious meals, but they also cultivate friendships.
Rubin said she and eight friends chose to live in Terrace 2 because they wanted to learn more about sustainability. She said not only have they adapted to the style of living promoted in the building, but they have gotten to know many of the students on their floor in the process.
"We pretty much know everyone who lives in our [building], whereas last year we only knew the girls who lived on our floor," she said.
Hammonds and Rubin said their housing programs foster lively social environments, but students living in nonthemed residence halls don't always have that sense of community.
Freshman Jason Juliano lives in Emerson Hall — a residence hall with private bathrooms in every room. It's a perk, but Juliano said it doesn't give him an incentive to leave his room and interact with other students.
"You don't have to go out of your room for anything," he said. "I don't talk to as many people as I think I [normally] would."
Besides the increased number of events that comes with being part of the First Year Program, freshman Stephanie Wisniewski said living with fellow freshmen helped her adjust to college life.
As an added bonus, Wisniewski said her incredibly spacious room in Boothroyd Hall made her experience in the program even more enjoyable.
"The rooms here are huge," she said. "They're abnormally huge."
The program requirements students must fulfill to stay in a living community help them cultivate a specific lifestyle. But in Hood Hall, the substance-free dorm with no required programs, students' commitment to the lifestyle varies.
Freshman Greg Yakimec, who lives in Hood Hall, said he chose to live there to focus on his studies without disruption from loud parties. But he soon recognized that some people in the dorm did not want to adhere to the substance-free way of life.
"Some people didn't pay attention or know that it was a substance-free dorm when they signed up for it," he said. "A couple people chose to move out because of that."
Though many students in living communities plan to move on to other housing options next year, they said the experience has made a lasting impression.
Rubin said living in a themed residential hall has enhanced the connections she has made.
"Living in the same dorm just brings you that much closer anyway, and the fact that we're required to be involved in the community definitely helps," she said.