Looking through the window of the newest eatery in Ithaca, it is customary to see a little girl in a blue dress and rain boots diving fearlessly into a ball pit or munching happily on some candied ginger or an avocado.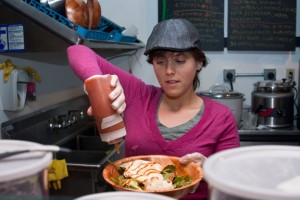 With its magnetic chalkboard walls, stage for live music and cozy seating, Culture Shock, Marian Flaxman's new restaurant on South Cayuga Street, inspires exactly this kind of fun-loving behavior.
With 5-year-old daughter Aurora by her side, Flaxman created a funky, healthy hangout spot in Ithaca that combines two kinds of live culture: the healthy, live cultured food — fermented foods that have bacteria that help digestion — on the menu, and the live culture of art and conversation.
Flaxman has celiac disease, which prevents the small intestine from absorbing gluten, a protein found in foods such as wheat, and has been vegan and vegetarian in the past. She is also a certified holistic health coach. After her daughter was born and also diagnosed with celiac disease and other food allergies, Flaxman said she had to change the way she was eating, inspiring her to open Culture Shock at the beginning of March as an entirely gluten-free restaurant with vegan options.
"That got me into just like playing with food more, and then playing with salad more, in particular, and using salad as a base for every meal," she said.
Salads are one of the main menu items at Culture Shock, and each salad is an artistic creation that contains a live cultured food item such as kombucha or kimchi. Some traditional cultures, such as those in Korea and Russia, always contain a fermented food element, such as sauerkraut, kimchi, kombucha, or raw cultured yogurt and cheese.
"Fermented foods are really good for you because they're really high in live, healthy bacteria, which support your immune system and your digestion," Flaxman said. "So then you come to our culture where people always have digestive problems — they're always getting sick; no one knows why. We're missing that from our food system."
Flaxman said she wanted to create a place to help bring live cultured foods back into everyday eating in a way that wouldn't turn people off. For example, another one of the big items on the menu is the tart frozen yogurt, which is live cultured and also local, like most of the other foods.
Customers can also take a swim through the ball pit in the corner, hang out at the bar, listen to live music and admire local art on the walls. With bright purple lights, green paint and the vibrant dressings on the salads, Culture Shock is a treat for both the eyes and the taste buds.
"We're all coming together over a bubbly drink that's full of live culture and a bubbly person on stage who's full of living culture," she said.
Flaxman said part of why she feels Culture Shock will be successful is the energy her staff brings to the job.
Ithaca College sophomore Ben Lloyd, an employee at Culture Shock, said he applied because he thought it sounded like the coolest job he could imagine. When he was hired, he realized he had been right — everything from the atmosphere to the food impressed him, he said.
"I couldn't ask for a better boss, and the food is the best food I've ever had," he said. "When I made my salad on the first day, it was the best salad I'd ever had in my life. So everything about this place is pretty awesome."
Flaxman said she hoped Culture Shock would  help fill a void in Ithaca in terms of the lack of child-friendly restaurants downtown.
"People will enjoy it for a lot of different reasons," Flaxman said. "Anyone who wants somewhere they can come hang out … and not worry about being stressed out about 'Is my kid being too loud' or whatever. They're not; they're in a ball pit. It's all good. They can draw on the walls. Literally, we have chalk."
Her daughter Aurora is living proof the restaurant is still appealing to kids despite the emphasis on healthy foods kids normally stray away from.
"I like the ball pit," she said. "I like the kombucha."
First-time customer and Ithaca resident Molly Rohrer was blown away by the Fratboy Salad and jasmine kombucha she ordered, and said she found the atmosphere pleasantly different from other eateries.
"I love the local art especially, and the decorations are great," she said. "And the whole live culture thing is pretty cool."
With its overarching philosophy of experimenting with different things and having fun doing it, Lloyd said he would recommend Culture Shock to anyone and everyone.
"You can chill in the corner with couches, you can jump in a ball pit, you can listen to live music and you can eat amazingly healthy food," he said. "It's just completely different, and the atmosphere in here, there's just nothing like it."
Culture Shock is located at 109 S. Cayuga St. Visit the restaurant's website at www.tasteliveculture.com.