Meghan Wood has watched her grandmother and parents purchase Ithaca Festival T-shirts and buttons for as long as she can remember. This year, Wood will design the newest version in the button series.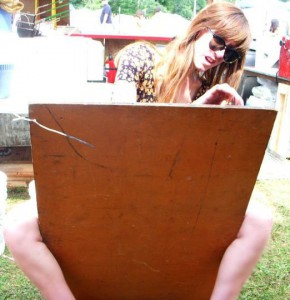 Wood, a first-year graphic design student at Rochester Institute of Technology, was recently named the 2012 Ithaca Festival Official Artist. The Ithaca Festival is a four-day summer music and arts festival on The Commons and will be luau-themed this year.
Staff Writer Alyssa Frey spoke with Wood about her plans for the festival, her past experiences with the festival and her love for the Ithaca area.
AF: How did you become involved in the past with the Ithaca Festival?
MW: I did the graphic tee last year, and they ended up picking two of the designs that I proposed, which was great. They've been super supportive of me, and I've been painting signs for them for the last two years. Jes
Seaver, the director of the Ithaca
Festival, has a level of involvement with that festival, and she saw my work and work ethic and approached me about it last year to do the graphic tee, and I was so psyched.
AF: What are you designing for the upcoming festival?
MW: I'm designing both the graphic tee and the art tee, which they have been doing for the last four or five years. And in doing the art piece for that T-shirt, that will also be the button and be featured in the program and stuff like that. It's a pretty awesome gig.
AF: What can we expect from your work at the festival?
MW: The idea of luau reminded me of this touristy feel, like those vintage old postcards that you see for Hawaii. And I was like, 'How cool is it to think of Ithaca, your hometown, as this tourist destination?' So I played a lot with that idea, and then also, there's just the intuitive sense that Ithaca is such a beautiful town with so many beautiful waters — almost tropical spots. A lot of the designs play off of that.