Students flock to the Tompkins Cortland Community College extension center across from the Starbucks downtown. As they wait anxiously, clutching scripts, a casting director ushers them in one by one to a room with a panel of judges. These students are hoping this audition could lead to their big break.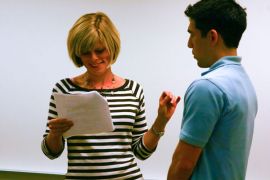 Students from TC3 are working with Michael Kehoe, a writer, director and producer with extensive Hollywood experience, to make a new independent film called "Pimp Laundry." Kehoe has worked on popular films such as "Jerry Maguire," "Panic Room" and "Star Trek."
On a special visit to TC3, Kehoe met Cory Grogan, a third-year student who showed Kehoe around the campus. The two began talking about scriptwriting. After his visit, Kehoe signed a contract saying he would make two feature-length films with TC3 students. The first is a comedy co-written by Kehoe and Grogan, which follows an innovative college student who tries to earn money for school. The true identity of the character's work is where the entertainment begins, as members of the community begin to suspect that he is running an immoral business.
Shooting for the film began Oct. 3 at the Ithaca Yacht Club. Kehoe, who is originally from Trumansburg, said he wants the entire film to be shot in Ithaca. He said the abundance of students and community members interested in independent filmmaking is why he came back.
"I love the area," he said. "There is a score of wonderful filmmakers here, very talented filmmakers."
Grogan said the cast and crew will depend on the community for help in finishing the project by its August 2010 deadline, as it is such a small-budget film.
"Community support has been vital because we don't really have a budget at this point, and so far, the community has come through in spades," he said.
Director Jeff Lower, a TC3 student, said he hopes to show the strong aspects of the town and the people working on the film in the finished product.
"I really want to show the natural beauty of the area and, more importantly, the passion that all the people involved in this project have," he said.
Kehoe and Lower also hope to include students from Cornell University and Ithaca College in creating the film. An open audition was held last Thursday for students and community members. About 25 students from Cornell and the college attended.
Assistant Director Matthew Watkajtys, a junior at the college, said getting experience outside of the college is important for film students when it comes time for them to get a job in the industry.
"Ithaca College is a great school, but the school will only take you so far in the industry," he said. "Without the real-world experience, you have nothing."
Grogan said working with students has its disadvantages because of their imperfections and inexperience, but Kehoe wants students to be in all principle and supporting roles.
"Mistakes will be made by everyone, but we're all learning, which is the most important thing right now," he said.
Kehoe achieved success in the independent film industry with the screening of his film "Second Dance" at the 1994 Sundance Film Festival and by creating his own production company, Taughannock Entertainment. He said a large part of what he wants to do with this project is share his success with students from the area.
"If I can support the students — the filmmakers of tomorrow — I can then produce their films," he said. "I can nurture some of these young filmmakers of today that will be the big filmmakers of tomorrow."
For the second film with TC3 students, titled "She Monster," Kehoe will be directing the film, playing a more hands-on role. Currently, he acts mainly as a producer for "Pimp Laundry."
The two films will be screened in August 2010, along with short films and commercials made by students in the Ithaca community. He hopes the event will also include an announcement for the commencement of the Taughannock Film Festival — an opportunity in the future for students as well as professional filmmakers to showcase their work in Ithaca.
Kehoe said he wants this film to be the beginning of many features filmed and screened in the Ithaca area.
"With these films that I am going to make with the TC3 students, I am hoping it catches a fire," he said.