It was sandwich versus sandwich and cookie versus cookie at Cornell University's annual Battle of the Late Night Foods.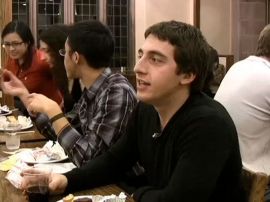 More than 1,500 students gathered in Willard Straight Hall on Friday night to sample foods from different late-night restaurants in Ithaca to determine which one has the best snacks for those late-night cravings.
Jeff Katz, Cornell senior class president, said the campus likes to help local take-out restaurants promote their businesses.
"We approach Collegetown and Ithaca food vendors and say, 'Hey, a great way to promote your restaurant [is] to get exposed to the Cornell community,'" he said. "'Bring 1,500 samples of your food to this event. We'll bring 1,500 people.'"
Not every restaurant can qualify for a chance to battle. All participants must be a "late-night" establishment, meaning that they are open until 1 a.m. or later. Last year's winner, Moe's Southwest Grill, was barred from entering this year's competition because it closes at 9 p.m.
This year's contestants included The Connection, Jack's Grill, Jimmy John's, Insomnia Cookies, That Burrito Place, Domino's Pizza and AAwesome Wings & Cheesesteak.
Jeff Legg, owner and operator of Jimmy John's, said he participated this year because he likes feeding the community — and the competition is exciting.
"We started doing all our prep and stuff like that this morning," he said. "We were starting to get things prepped, and we worked about a solid eight hours getting this stuff together.We're definitely in it to win it."
With the exception of Cornell Cinema, the event took up all of Willard Straight Hall. Most of the space was used to hold large lines of hungry people.
After receiving food from each vendor, attendants were given one ticket to use as a ballot. They ate downstairs in a dining hall, where free beverages were provided. Local radio stations, a disc jockey, music groups and dance teams entertained the people eating and waiting in line for food.
Kevin Sullivan, owner of The Connection and Jack's Grill, said he hopes Ithaca College will pick up the tradition as well.
"It's a good time, getting to interact with customers and potential customers," he said. "We're waiting for Ithaca to do one."
The Connection won First Place in 2006. Sullivan said The Connection's secret weapon is its warm, gooey brownies.
The winning restaurant received a plaque, their name at the bottom of every e-mail sent to the Cornell listserv and free magnets with order information for students.
Students tasted all night to decide whose late-night cuisine reigned supreme. Insomnia Cookies killed the competition and won the title of Battle of the Late Night Foods Champion. This was the first win for the dessert delivery store, who was runner-up last year.
Shaun Semanyk, manager of Insomnia Cookies, said she thought her business was too small to compete with the other food vendors.
"I was actually kind of surprised," she said. "I thought a place with more food and not just cookies would win, but it's awesome."
Semanyk said she believes new recipes, such as coconut pecan, and the decision to serve mini-cookies rather than large ones, was what brought her restaurant the 2009 title.
"Otherwise it was the same thing — [we] just make sure we don't burn the cookies," she said.