A small, hot bedroom packed with speakers and instruments, and decorated with colorful posters, tapestries and bits of soundproofing foam serves as a daily practice room for the four members of Amplication.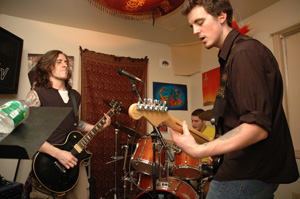 Three of four former members of Carpe Anima — seniors Nick Hinton and Christian deBrigard and junior Zack Downes — came together in January to form a new band with a fresh sound, leaving behind its unrefined grunge for a cleaner rock feel influenced by blues and funk.
Their new style fuses together the backgrounds of the three musicians. Hinton, who plays guitar, listens to classic rock, while Downes, on drums, comes from more of a jazz background. DeBrigard, also playing guitar, grew up listening to everything from Jimi Hendrix to bands just shy of death metal.
"It's inevitable [with] anything we write, we'll write some really heavy parts, but it still has … a little bit of that blues rock kind of sound to it," deBrigard said.
Hinton, deBrigard and Downes thought about keeping the name of their previous band, which was together for five months, but felt they had changed too much. Though they acknowledged the sound is different, the only way they could agree to describe it is as a "mutt." DeBrigard sums up the band's sound as "hard rock with a funk twist to it."
Downes said the easiest way to classify the band's sound is as alternative rock, but he is reluctant to pick a label just yet.
"I usually tend to categorize my band by the types of people that we get to come to our shows, like the kinds of music that those people are into," he said.
No matter what term they choose, the music is energetic and powerful, and loud enough for the guys to need earplugs during practice — Downes just bought a new pack.
Emily Smith, Amplication's fourth member, is a large contributor to the band's fresh sound. Arriving in Ithaca in January to be with her boyfriend Hinton, Smith helped rework two Carpe Anima songs and write three new ones.
"They play very well together, and I like their kind of music," Smith said. "I can really mesh with them."
Hinton and deBrigard met their freshman year at Ithaca College, the year Hinton began playing guitar. The next year Hinton met Downes and invited him to a jam session.
DeBrigard, who has been playing guitar for 14 years, said Hinton's relative inexperience adds enthusiasm to the writing process. Downes, who got his first drum set when he was 8, said because Hinton has not been playing for long, he is not bogged down by the do's and don'ts of composition, which enables the band to do things deBrigard or Downes may not think of.
"It's sort of like I'm playing with my teachers because they were there when I started," Hinton said.
Both deBrigard and Downes have been in several bands, but said this group has the best fit.
"I've never found a project that had that kind of best friend atmosphere to it, as well as writing songs that feel like they're genuine," deBrigard said.
Being good friends doesn't take away from the professionalism of rehearsals. During practice, the band segues between songs without much of a pause and the members rarely speak, but the music is tight and they feed off each other's energy. Even with their eyes closed — and often they are — the band physically and musically moves together, bouncing in the same direction and transitioning into and out of solos.
Amplication is looking forward to performing for an audience and getting feedback at its first performance tonight at Castaways. Music is a personal thing, Hinton said, and it is always nerve-wracking when introducing a new project to the public.
"You're getting on stage and essentially reading your diary," Hinton said.
Though the band is still in its infant stage, its members are dedicated to futures in music. DeBrigard said if his life ends without touring he will feel like he missed something. Hinton said whether he makes his living playing music or is just an "old man in a wifebeater playing in [his] living room," music will be part of his life.
Right now, the members of Amplication are working on new songs, booking gigs and waiting to see where their music takes them.
"We're still so brand new that there's only room for growth," Hinton said.