Underneath the cover of senior Neli Mechenska's sketchbook, shaded pencil strokes show the beginnings of a small seed. Carefully weaving soft angles across the page, the shapes show the evolution of a child until a woman emerges, a long braid cascading down her back in a single line off the page.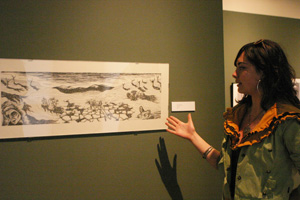 As she traces the outline of the bodies with her forefinger, Mechenska connects the comfort of the woman, bare backed and exposed in the foreground, with her own four-year transition from life in Bulgaria to an unfamiliar American culture.
"[It is about] ancestry and making ancestry a part of who you are … learning from the past but evolving into something more," she said. "I feel myself as the main character most of the time. That doesn't necessarily mean [the drawing has] to do with my life, but that emotionally I'm closely related."
Examining the effects of other cultures and her own is the cornerstone of Mechenska's senior art project, a yearlong thesis that includes four pieces in the 2007 Senior Student Show at the Handwerker Gallery. The final piece of her thesis, a 15-page book of drawings, is a culmination of scenes inspired both by her homeland, sketches of women chiseled into ancient Bulgarian tombs, and America, drawings of young women caught in reflection.
Born and raised in Bulgaria, Mechenska came to Ithaca College four years ago, primarily for its international program but also to gain a better understanding of American people and traditions. As the first in her family to choose a career outside of medicine, Mechenska said she constantly finds herself having to explain the value of her work to her family while reaffirming her own talent for herself.
"In Bulgaria, everyone has this view of America … [but] I wanted to see things for myself," she said. "As an artist, I think it's important to know cultures, to experience different people."
Bruce North, an associate professor of art who taught Mechenska in an introductory painting course, said she was "not the best participant" in his class when she started, but she became more serious as the course progressed.
"She was very hard on herself — she struggled, but in a good way," he said. "She has a seriousness of purpose in terms of wanting this education. She realized how important it was to immerse herself in the experience."
Mechenska describes her drawings as monochromatic, in pencil and ink with occasional watercolor. One of the gallery pieces, "Motherland," illustrates a barren landscape Mechenska said reflects her native Bulgaria. The finely cracked land, tortured expressions of empty-handed harvesters and a dying lion speared with the flag of a horsetail symbolize what Mechenska calls the "chaos and crisis" that has filled her nation for the past 15 years.
Susan Weisend, chair of the art department and Mechenska's adviser for the past four years, said the technique she uses to put her concepts on paper is sophisticated and polished.
"She has this very delicate kind of approach [while] working with some very difficult subject matter," Weisend said. "You're looking at this really strong, very gutsy imagery, but it's handled with so much finesse."
Mechenska's desire to take chances not only influences her artwork, but also contributes to her "free spirit." She said her love for cliff jumping and Latin American dancing gives her a chance to physically connect with some of the emotions expressed in her artwork.
The downtown apartment Mechenska shares with her boyfriend, Nikolay Zahariev, and another roommate is also a forum for her to gain insight into how people who aren't trained in art view her drawings.
"Those reactions are more important than any scholarly reaction," she said. "I'm not making my art only for art history majors or art people. I want everyone to be able to get something from it. [Nikolay is] the one that kind of pulls me down and pulls me off my pedestal and says, This is what real people are going to see."
When her parents travel to Ithaca and see her work for the first time before graduation this month, Mechenska said she hopes they can finally see her progress.
"I really want them to see it … to say all of this time in this 'crazy, crazy' major has led me somewhere," she said. "All I want my artwork to do is stir some kind of emotion. They may hate it, but that still means something."