Zombies, ghosts and even demon vaginas have graced the stage at Ithaca College through the Macabre Theatre Ensemble. After its most recent student-written show, the ensemble has plans for next semester with some twists and turns.
Macabre Theatre, a group dedicated to bringing horror, science fiction and alternate universes to audiences, began with a bite last fall when sophomore Sean Pollock, the founder and artistic director, decided to do a theater production of the 2007 horror film "Teeth."
"I always thought it would be really funny to see on stage," Pollock said. "I mean, it's about a man-eating vagina. I think it's a great play."
Pollock said he modeled Macabre Theatre after Steppenwolf Theater Company in Chicago. Members of Macabre Theatre are typically able to participate in any aspect of the production process, such as writing, directing and stage-managing.
The members displayed their creativity during the development of the company's most recent musical "Angels, Demons (and the rest of us)." Production of the show began last spring when junior Ben Viagas came to Pollock with songs about the supernatural, but he had no concrete idea for how to put them together. Viagas continued working on the show, eventually fitting together the songs with a common, supernatural theme and forming them into a cohesive production.
The show surrounded different plotlines about spirituality, supernaturality and the differences between heaven and hell, each played out through song. At the end, the different stories of the songs converge. The cast sat up front, making a semicircle around a center microphone. One by one, each performer belted out a song in the form of both solos and duets, ending the 45-minute show with a group number.
Viagas directed and wrote the show, which premiered Saturday in Beeler Hall in the Whalen Center for Music. He calls his piece a "song cycle," which he explained is a musical without a script, a collection of songs that share a common theme.
This was the first time Viagas worked with Macabre Theatre, but he said he enjoyed the experience. During the casting process, Viagas said he wanted a friendly and more relaxed tone with his actors. He said most of the actors he ended up choosing for the roles were already his friends, though he also felt they were ultimately the best fit for the parts.
"I love working with people who I know, especially with this kind of a weird, offbeat material because you can get musical theater majors who will belt everything really fiercely," Viagas said.
During the rehearsal process, the cast interacted with each other and Viagas as if they had known each other for years. They supported each other and gave each other pep talks to pump them up for the show. During one song, which sophomore Kalina Jasper sang, she played the gatekeeper at Heaven's Gate who passive aggressively judges those coming up to heaven.
Though Pollock holds auditions for students to become part of the group each semester, the current members of the group usually switch their positions depending on the performance. Each member of the ensemble, which consists of more than 15 members, is usually in charge of a piece of the production, but Pollock said they occasionally bring in outsiders to help with more technical elements like audio and lighting.
"What I love the most about it is that we do theater different than any other group on campus," Pollock said. "I like to think that we are giving opportunities to emerging playwrights and directors other groups haven't in the past."
Another original piece Macabre Theatre put on this year was called "You Know What They Say," a horror-comedy written and directed by sophomore Maxie Mettler, who is the executive producer of Macabre Theatre and has been involved with the group since the beginning.
"We have personal relationships, and we all respect each other as people," Mettler said. "When it comes down to having to lay down some discipline or make tough decisions in the ensemble, we're always respectful about it and mindful of everyone's feelings about everything. We're able to communicate very well as a group."
Mettler's play was a series of monologues and short scenes that played out in a universe where idioms, like "step on a crack and break your mother's back," come true. He said the rehearsals were intense, but he had fun producing the show anyway.
"We do have a lot of fun around rehearsals, but that's not to say that we're not professional and we don't do our jobs as efficiently because we're all friends," Mettler said. "We're all there for the same goal, and that's to put on a show."
While most of the productions have controversial content, Pollock said there has been little backlash, outside of a disgruntled audience member's tweet about "Teeth," in which he said it was called "heinously offensive." While he acknowledges that the controversial nature of many of Macabre Theatre's productions might offend some people, he said not every play or musical should be conventional.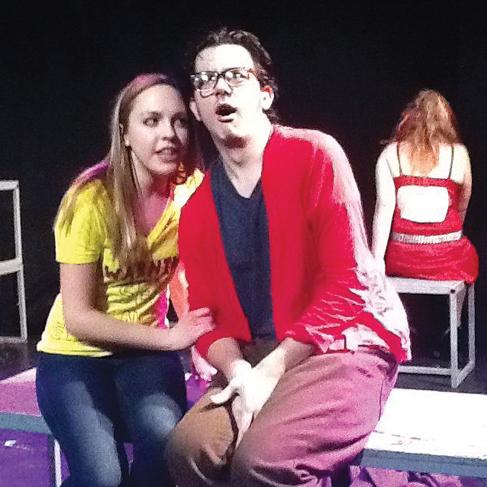 "The fact is, not all theater is 'Legally Blonde' or 'The Sound of Music,'" Pollock said. "Theater's a broad, broad spectrum, and we need to be exploring and working in the dark because without those works, theater wouldn't be the full, rich arc that it is."
Pollock said he was frustrated by the comment because he does not feel that he should only be known as "the guy who directed 'Teeth.'" However, he believes that the more controversial productions Macabre Theatre does are important because they have something to say.
"I do believe that while there are a lot of absurdist works that we've done, they have a purpose in being there, and we want to make sure that that's clear in the development and in the writing of the shows," Pollock said. "One thing Macabre really loves doing is asking questions and challenging a lot of what society has in fact taught us."
Going into next semester, Macabre plans to do more original pieces and fewer remakes, though Pollock said there may be a surprise in the works that he's keeping secret for now. The group plans to do more serious shows, beginning with the show "The Receptionist," which Pollock is directing. He said he wants the show to open early next semester.
Pollock said the goal moving forward is to expand the ensemble's audience and get more involvement from the community.
"We're thinking about possibly doing shows over the summer and including Cornell," Pollock said. "We want to make it a really big, inclusive thing for the Ithaca community."
Mettler said attendance at the most recent shows has been high. He takes this as a sign that Macabre Theatre will continue to gain success and popularity over the next few years.
"As we continue to do things and continue to put on great shows, people are going to hear about it, and we're definitely hoping that in the next year or couple of years to be one of the top dogs on the campus, up there [with] IC Players," Mettler said. "That's our goal."