On a whiteboard hanging on a freshly painted lime green wall of 15-year-old Carrie Penepent's bedroom is a list of her biggest dreams. Each goal is represented by a single word or phrase — "Boyfriend." "Skinny." "Famous." "Good College." "Be on TV."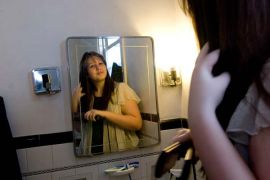 The Ithaca High School sophomore achieved one of those goals recently when she was featured on a recent "Power Girls" episode of the MTV reality series "Made," which premiered Feb. 21. Film crews followed Penepent from Dec. 1 to
Jan. 17, documenting her transition from an attention-seeking tomboy to a confident "power girl," who she described as someone who can accomplish anything she puts her mind to under any circumstance.
Penepent was one of about 50 Ithaca High School students who auditioned for a spot on "Made" when film crews came to the school in September. She said her boyish style and lack of popularity probably contributed to the producers' decision to cast her. But she knew she hooked them when she said she lives upstairs from Herson Funeral Home, the business her father manages.
"I finally said, 'I live in a funeral home,' and that's when I had them," Penepent said.
As the youngest of three children, Penepent said she's grown up in her older siblings' shadows. Her brother, Philip, 20, was the Ithaca High School student body president for three years, which Penepent said left much for her to live up to. She said her sister, Ithaca High School junior Regina Penepent, also has a popular status at school.
"My sister is the perfect varsity cheerleader, and I'm just the mascot," she said.
Since her freshman year, Penepent has acted as the mascot for the school's sports events in hopes of matching the school spirit her brother — who was also the mascot during his high school years — is remembered for.
It was at a hockey game that a skunk-suited Penepent first met her "Made" coach, who gave her assignments throughout the filming process and guided her through the makeover. Penepent's first assignment was to change out of the mascot costume and into a pink polka-dotted halter dress and skate around to a song from "The Nutcracker."
Her coach, Hitha Prabhakar, is a fashion retail analyst who has
appeared on Fox News and E! Entertainment Television as a style expert.
"To be able to juggle that and maintain composure, I think that's the skill that MTV producers thought I had in order to teach someone," Prabhakar said.
Still, Prabhakar said none of this prepared her to jump back into the life of a teenager.
"It was very challenging to think how a 15-year-old thinks," Prabhakar said.
Interviews with Penepent's friends and peers made up a large part of the production process. Penepent's friend Ithaca High School sophomore Carlye Gordon said when she was interviewed for the show, her responses to the MTV crew's questions weren't always spontaneous.
"They would ask you a question multiple times and sometimes they'd make you say the answer again but in a different way if they didn't get what they wanted," Gordon said.
Prabhakar soon replaced Penepent's daily uniform of sweatpants and hoodies with a closet full of designer clothes like Juicy sweat pants and Frye heels. The scars on her feet are reminders of the four weeks she spent walking the school halls in 3-inch heels.
"I was showing my legs and my arms, and I wasn't hiding under hoodies and sweatpants," Penepent said. "I was proud to look pretty like the other girls in my school."
During a weekend trip to New York City, Penepent got to see first-hand how her coach juggles the "power girl" life day to day. Penepent also met with a dating expert and then went on dates with four male models to practice her newfound flirting skills. She hit it off with one of the dates, and she later took him to her school's winter formal.
As with every episode of the show, one final assignment served to determine whether Penepent was successfully "made." For her, this moment came at Ithaca High School's winter formal in December. She wore a new purple dress, had her hair and makeup professionally done and said she felt the transformation was complete.
"I felt like a rock star at my winter formal," Penepent said.
Traces of her "Made" experience are still scattered throughout her room, most noticeably in the form of little pink note cards pinned to her teal bulletin board on which Penepent's peers wrote comments about her, as part of one assignment from Prabhakar. Though many of the comments are negative — "Carrie needs more confidence," "Hard to take you seriously," "Wear more makeup" — they serve as reminders of the significant changes she's made. Penepent said she's now comfortable in her own skin and doesn't feel the need to constantly beg for attention anymore.
"I don't take them down because I look at the note cards, and I think, 'I never want to be that girl again,'" Penepent said.