Everyone dreams about being able to turn passions and hobbies into careers, but many feel that the stuff of fairy-tales cannot happen in real life. However, for junior Ben Silverberg, his dream is already a reality.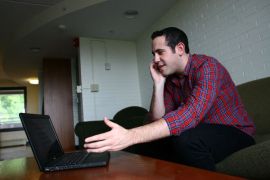 Silverberg developed a love of music at a young age. In middle school, he played the saxophone, and by high school he was playing guitar, booking shows for local bands and running his own radio show. This summer, he became the co-partner of a new artistic management company, Animal Instinct.
Silverberg and his partner, Dan Lebo — a student at SUNY Buffalo — met about five years ago at a Vans Warped Tour concert, where Lebo gave him backstage passes to interview a few bands. The two began working on music review Web sites shortly after.
To Silverberg, a business administration major, the decision to start a company was obvious.
"We work together great," he said. "We know the key players. We know how the industry works. So why not start a management company?"
The pair talked about starting a company last winter. Silverberg prepared by taking the Legal Environment of Business course at the college, which was especially helpful for writing contracts.
This summer, when Silverberg interned at The Orchard, a digital media distributor in New York City, it all came together.
Silverberg said he was eager to learn about all aspects of the company.
"During spring break I went for an interview with the operations department, and I said, 'You can put me in one spot, but I'm going to go out and learn about the different departments,'" he said.
Silverberg landed a spot in the Artists, Labels and Relations Department, where he was able to work with product management, publicity, interactive marketing and retail marketing.
Over the summer, Silverberg and Lebo launched the Animal Instinct Web site. From there, Silverberg went to a Big City Lights show, a band he had worked with previously, to discuss signing the band to the company.
Silverberg said the band was perfect for Animal Instinct to break into the industry with because the members wanted to increase their fan base and they consistently produce solid pop songs. The band signed, and Silverberg pitched the idea of Big City Lights to The Orchard to see if the company approved of his business move.
Employees of the company were impressed and helped him develop an artist management contract and book a show on Jones Beach, Long Island. The band played with artists Boys Like Girls, The Academy Is, Gym Class Heroes and Never Shout Never.
Benjamin Sage, Silverberg's boss at The Orchard, said Silverberg's work is impressive for his age.
"Considering that he hasn't even graduated college yet, it's remarkable what he's put together, what he's doing and how fast he's learning," Sage said.
Guitarist and singer Justin Morrell said collaborating with Silverberg is a rewarding experience.
"Working with Ben and Animal Instinct is awesome," he said. "We decided to work with them because they are a hard-working team who works from the ground up, focusing on real relationships [and] strong work ethics."
Animal Instinct is currently focusing on promoting Big City Lights but is willing to add another band to the roster. Lebo said the company only wants to have as many bands signed as they have people working, so the two of them can give each band the attention it needs.
Lebo focuses mainly on the graphic design aspect of the advertising and currently has his own graphic design company on the side, Second Nature Creative Studios.
"Artists charge thousands of dollars for CD artwork and MySpace designs, so we're saving this band a ton of time and money," Lebo said.
Lebo said he did not charge Big City Lights for the MySpace layout because it's his responsibility to make the band look good.
"It's a big risk to go into this profession because we don't make money unless the band makes money," he said.
Animal Instinct receives a percentage of the gross income the band makes, according to the contract agreed upon.
Silverberg said he wants to focus on breaking bands into the industry that he thinks can turn out to be something big.
"Our goal is to develop artists that have a lot of potential and get music back to the way we remember it when we were kids," he said.