The narrow gallery hummed with the sounds of guests discussing the collage portraits and impressionist streetscapes that hung on the wall for a new exhibit opening. Visitors sipped wine and sampled snacks and mused about motivation and method.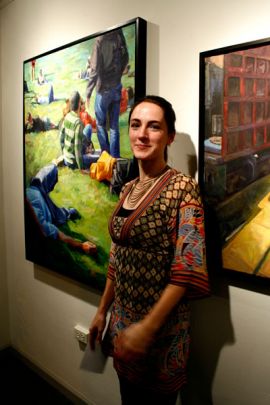 At an artists' cooperative like Ithaca's State of the Art Gallery — named for its location on West State Street downtown — the unifying theme to an exhibition may have nothing to do with the art itself. Such is the case with the gallery's new-members show, which opened Friday night.
The show, which will be displayed until Nov. 30, features the work of Andrea King, Leslie Brill, Ethel Vrana and Erica Pollock, all artists who joined the collective during the last two years.
Vrana's work was a crowd favorite. Her series of abstract explorations of color and texture included "Pangea," a gold- and copper-colored mass of lumps and dots that evoke the breaking supercontinent.
King, a collagist from Aurora, N.Y., was the only non-painter featured in the show. Her work on display Friday night was made up mostly of advertisements ripped from magazines, which she rearranged to represent the Greek and Roman gods after which the planets were named. One of her favorite pieces, "Uranus," has a dreadlocked composite face and a green-gloved hand holding a trumpet.
King grew up in an artistic family and was a dancer through her college years but didn't do much studio art until she was working behind the desk at a local hotel. She said art was a way for her to cope with the boredom of her day job.
"To fill my creative gap I did some cutting and pasting in the evening," she said. "More than cutting and pasting, it's like tearing and gluing. So I would fill my time with that, and I felt like I was on to something."
Eventually, King began taking her art more seriously and started looking for a place to show it. She said the State of the Art Gallery was a natural choice.
"This is probably the most prominent gallery as far as location," she said. "I would come in here frequently to look at the art anyway, so I thought, why not apply?"
Erica Pollock, whose work is drastically different in style to King's, exhibited series of urban paintings.
Pollock's work in the show includes a piece called "Sunday Morning," a painting of people sitting on a lawn with their backs to the viewer, taking in a summer's day. The piece sold on opening night for $3,200.
Pollock said she works from photographs she takes, often altering them in Photoshop before painting. She said she tries to shift her audience's focus away from recognizable subjects like people.
"With this body of work I'm dealing more with shadows and streets and taking the emphasis off of the physical person or the physical object that you're looking at," she said.
Pollock studied painting and sculpture in college at the Academy of Art University in San Francisco. When she moved back home to Ithaca, she decided to join the gallery so she would have a place to display her work for a local audience.
"People would come [to me] and they'd say, 'Where are you showing your art? Where can I go see it?'" she said. "This actually worked out really well in that regard."
Leslie Brill, the other painter in the show, premiered a series of paintings sunlight through trees. Though the paint she uses is oil-based, her work has the soft, blurred quality of watercolor.
King said the gallery doesn't normally plan a group show for its new members, but its board of trustees needed to fill a gap in the calendar.
"Everybody gets a solo show depending on when you were accepted into the gallery," she said. "The new members really wouldn't have had theirs until 2010, but somebody dropped out of this month."
Ithaca has carved itself a niche in the upstate art scene during the years. One major reason for this is the city's grassroots, do-it-yourself ethos, which provides a haven for smaller nonprofit and cooperative galleries like State of the Art Gallery.
The gallery has an open call for membership applications several times a year, Pollock said. Portfolios are then reviewed and voted on by members of the collective. Accepted members get a solo show in the gallery, the opportunity to participate in committees and the support of the gallery's community of artists.
Ben Sherman, a gallery member for more than 15 years, said the new members have talent and their work shows great potential.
"When we get a young artist, they provide excitement and vision," he said.
On Friday night, a group of art students from Alfred University was in Ithaca to visit the gallery. Alfred senior Leigh Ann Sammis said the trip was helpful to her as an aspiring artist.
"I feel like I'm not really knowledgeable enough about contemporary art," she said. "It's really interesting to see what's being shown in galleries right now and what I can expect to see once I'm out in the art world."
Jeffrey Juran, an Ithaca resident, said he's familiar with the artists exhibiting in the new-members show. Part of what attracted him to the opening was a desire to see what they had been working on lately.
"I've seen them work with very different styles, which is kind of interesting," he said. "I really appreciate when artists are stretching out and trying new things."