Students at Ithaca College may have flipped through the May 2007 issue of Details magazine without ever realizing the model with the 10-page photo spread may be the kid sitting next to them in class.
When junior communication, management and design major Eddie Lemonier attended a college night during his senior year of high school, he was approached by John Casablanca's Modeling Schools. Though Lemonier had never given a thought to modeling before, he agreed to take classes and was later signed with Talent Plus, based in St. Louis, Mo. They told him he had the potential to sign with a New York agency, so Lemonier packed his bags for New York City.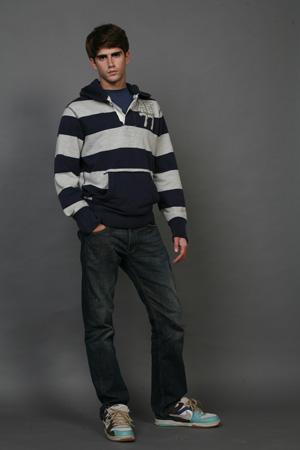 "It was completely foreign to me," Lemonier said. "I've been to the city before but never by myself trying to find things."
He spent three days meeting with agencies until deciding on Re:Quest model management. This summer, the 6-foot 2-inch model appeared in a runway show for American Eagle.
"For guys, runway is really easy. You just walk like you're real cool or something," Lemonier said. "Whereas girls, they have to cross their legs as they walk in huge 8-inch heels."
After the American Eagle show, Lemonier was able to take clothes from more than 20 racks of clothing. He made sure to snag a hoodie for his older sister, Caroline.
"He always thinks of others," Caroline said. "He truly is an inspiration."
Lemonier has also done photo spreads for magazines like Wonderland. Though runway modeling pays more, Lemonier said he prefers photo shoots because he likes the finished product and intense process that goes along with it.
Lemonier said he has been to more than 100 castings. Initially, he was always nervous going into a casting call and meeting with a client.
"It's kind of like a try-out," Lemonier said.
As a result, the laid-back 21-year-old is able to take rejection pretty easily and is continuing to learn about the modeling business itself.
"It's not like what you see on the reality TV shows," Lemonier said. "As long as you're a pretty down-to-earth person, or a personable person, you'll be all right."
Lemonier said he was surprised at how vague clients are with information about photo shoots. For him, it is a learning experience because he never knows what to expect.
"It's kind of scary going into a shoot and not knowing what you're going to be doing," he said.
Lemonier's success as a model could stem in part from his Southern charm. The New Orleans native is able to turn his accent on and off like a switch.
"Ithaca just kind of takes it away from me," he said. "When I go back home, it's easy to get drawn back into it."
Lemonier was originally enrolled closer to home at the University of New Orleans. He was enjoying his first week there when a friend told him there was a hurricane in the gulf. Lemonier didn't think anything of it, as he had evacuated his home in Slidell, a New Orleans suburb, many times before. But this time was different.
Lemonier grabbed his laptop and dirty laundry and evacuated to Atlanta, later traveling to his grandparents' home in Greenwich, Conn. Lemonier said he first realized things were serious when he was watching the news with his family.
"For Katrina, the newscasters knew that it was coming directly towards New Orleans, and you could tell by their tone and facial expressions that they were for real," Lemonier said. "I'll admit, I was a little scared."
Though his home wasn't destroyed, he was forced to throw out many of his water-damaged belongings. His great-grandparents were flooded out of their homes, and his grandparents' home was flooded with almost 5 feet of water. The population dropped so dramatically that his mother, an audiologist, couldn't stay in business.
After learning that University of New Orleans would be closed for the remainder of the semester, Lemonier was left with three choices: pursue modeling, attend Louisiana State University or transfer to Ithaca College.
"I didn't think pursuing modeling was too sturdy of a plan," he said.
Lemonier decided Ithaca College would be the best choice. Not only was his mother an alumna, but his cousin, junior Joey Laraja, had just started his freshman year at the college. He also felt the school would challenge him academically.
Lemonier was connected through alumni with Marty Brownstein, associate professor of politics. Brownstein contacted Deborah Mohlenhoff, assistant director of communication services and leadership development, and together they were able to help Lemonier attend the college as an extramural student.
"What surprised me was how quick the college response was," Brownstein said. "I would say within a day or two President Williams had ground into gear, and she set up some kind of appropriate college response."
Three weeks into the Fall 2005 semester, Lemonier was an Ithaca College student. Though Lemonier had only met Laraja once, having Laraja around made Lemonier's adjustment easier.
"It was nice that my cousin was here," Lemonier said. "He was kind of my mentor."
Despite his love of New Orleans seafood and his mother's seafood gumbo, Lemonier decided to make Ithaca his current home.
"The combination of his mother being an alumna and his cousin [going to school here] made it a natural place for him to seek sanctuary," Brownstein said. "That's essentially what he was doing. He was seriously displaced, and the college really became his home and still is."