Junior Nate Miner grew up competing with his brother to outplay each other's bands. Now, Miner, his brother Andy and Horseheads High School friends Matt, Ron and Anthony Furstoss have joined forces to form the high-energy alternative rock group Underwater Tiger.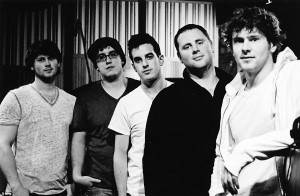 Underwater Tiger released its debut album "Where Miles Become Meaning" on March 24. The album was recorded locally in Pyramid Sound Studios with the help of Ithaca College alumnus Phil Abbott '09.
Assistant Accent Editor Allie Healy spoke with Nate Miner and Matt Furstoss about their newly released album and how the homegrown band came to be.
Allie Healy: How did the band get its start?
Matt Furstoss: It started out in 2009, and when I was home I hung out with Nate's brother. We were friends in high school, and he said we should get together and play. We had different bands in the past, but those did not work out. Then I got a call from one of my friends in New York City who had a show booked and wanted us to play. So I called up Nate and asked him if he wanted to play in New York City. So we got together and played at Delancey. People really liked it, and we had a good turnout, so we started playing and practicing and began to play locally.
Nate Miner: When I was a freshman here, Phil Abbott was a senior and I was his little shadow, I really looked up to him. He had the same taste in music as me, so I looked to him a lot. We went to him at his studio, Pyramid, and he helped us a lot with recording the album that we just finished.
AH: What other bands does Underwater
Tiger draw inspiration from?
NM: For the music that we write as a band I'd say Jimmy Eat World, Brand New,
Circa Survive, Taking Back Sunday and Thrice would be our biggest influences.
AH: What kind of genre would you consider your music to be?
MF: Alternative rock is the blanket genre, but there is a big catchy melody focus on the choruses.
AH: How do you describe the type of tracks featured on your album, and how did you decide which ones to feature as singles or top picks for the album?
NM: It's a very catchy album. We had a hard time deciding which song should be our first single. We view all of these songs as potential singles. There is a three-minute all-instrumental track on the album. It's like "Explosions In The Sky" — that type of sound. The album starts off pretty heavy, we have three guitars in the band, so it's hard not to sound heavy. The next couple of songs have a pop sound, then it slows down and gets mellow. The last song, "The Summer Came," we would consider to be our best.
MF: Basically no song is the same from the last. The album has a lot of variation, which we are proud of. I find it really boring when an album has songs that all sound alike.
AH: What is your fan following like? Do you have any loyal fans?
MF: We have one friend that sells our albums in the grocery store he works at. We have a lot of friends that help us out and are very proactive with the band. We have friends who studied film in college and made our music videos for us — it's a pretty
talented network. When we played in the Mercury Lounge, we had friends drive down just to see us in New York City, which was awesome in itself.
AH: Where did the name Underwater Tiger come from?
NM: We had a hard time, but once things began to get progressive we had to decide on a name. One day I got a picture text of a tiger underwater and we thought that would be a cool band name. So, we went for it.
Underwater Tiger will perform at 9:30 p.m. April 21 at the The Haunt.