Writing more than 1,600 extra words every day might seem like an insane task for any student with essays and projects, but for some writers, taking on the challenge to complete a novel in one month is a welcome one.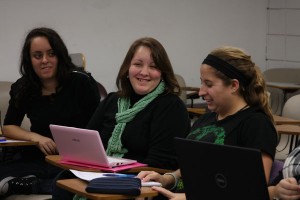 National Novel Writing Month, also known as "NaNoWriMo," is a worldwide event that encourages writers of all ages and walks of life to write 50,000 words of an original novel entirely during the month of November.
While the event's main goal is to motivate people to get writing, those who wish to formally compete in NaNoWriMo must be at least 13 years old, the sole author of their work and limit their writing from Nov. 1 to 30. All participants work on the honor system, since there is no way to verify who wrote the novel and when. Participants can still begin writing after the start date.
Sophomore writing major Kaylie Crawford started a NaNoWriMo club at the college last year. She said eight people actively participated in the club. This year, at least 15 people have shown interest. Crawford said she hopes this year the club will be a place of support for writers participating in the event.
"What I'm hoping to do with the meetings is to check in on how everyone is doing, see if anyone needs help with an idea, and then have a couple of exercises to really help you keep your juices flowing," she said. Novels submitted by Nov. 30 that are at least 50,000 words are considered winners, and authors receive a certificate and a web badge, which is a graphic that writers can post to their websites. Past winners include Sara Gruen,  author of the novel "Water for
Elephants," the draft of which originated during the 2006 NaNoWriMo.
Sophomore Leeza Goldenberg, is participating in NaNoWriMo for the second time. She said she doesn't typically enjoy writing, but had fun doing NaNoWriMo last year after Crawford urged her to join the club.
"I kind of just wrote about my life throughout high school, little individual things that have happened that changed me," she said. "I liked it. It was kind of therapeutic in a weird way."
Prior to November, meetings on the college's campus involved pre-writing activities, many of which were drawn from Chris Baty's novel-writing handbook, "No Plot? No Problem!: A Low-Stress, High-Velocity Guide to Writing a Novel in 30 Days."
"Prewriting can include anything from character sketches to outlines, back stories, lists about what you want to see, what you don't want to see, drawing your characters, and maps," she said. "It's really anything outside of writing the actual novel."
This year, sophomore Kelly Kane has been working on a young adult science fiction series. Kane said NaNoWriMo is great whether the author "wins" or not.
"Even if you lose, even if you [quit] a quarter of the way through, you just wrote a 12,500 word piece of literature," Kane said.
NaNoWriMo began in 1999 when Chris Baty, a freelance writer, gathered together a group of friends and decided to try writing a novel in one month. Baty and his friends later created NaNoWriMo. While only 140 people took part in the first NaNoWriMo, 200,500 participants took on the challenge last year.
The popularity of the challenge grew so rapidly that by year eight, NaNoWriMo was run by the Office of Letters and Light, a nonprofit that works toward fostering creativity and runs a variety of writing programs.
NaNoWriMo.org provides a worldwide community for writers where they can offer advice and share ideas with each other. But the NaNoWriMo community has become more locally oriented ever since its fifth year with the addition of liaisons — people who coordinate local NaNoWriMo events for writers.
Caitlin Cunningham, municipal liaison in the Ithaca region for the past two years, has held meet-and-greets and write-ins at Autumn Leaves bookstore, the Tompkins County Public Library, Ithaca College and Cornell University. She said she also celebrates participants' accomplishments at the end of the 30 days.
"The last thing I'm in charge of is in December we have a TGIO — Thank God It's Over — party," she said. "Last year it was at the Waffle Frolic downtown, and we all ate waffles and read segments of our novels."
Crawford said she encourages anyone reluctant to do NaNoWriMo to throw their fears aside.
"You have a unique story inside of you, whether you're a writer or not," she said. "Everyone is a storyteller, so you should try it and tell that story."
The National Novel Writing Month club meets Wednesday or Thursday at 7 or 8 p.m., depending on the week. Contact kcrawfo1@ithaca.edu for more information.