The sound is vivacious and contagious. Toes start tapping. Lips start curling. Muscles start moving. Hands slap against the fine leather surface of a bongo drum, the sound travels across the room. Booming vocals cry out to the audience, giving rhythm to the beat. El Rumbon's salsa music sends vibrations up the body.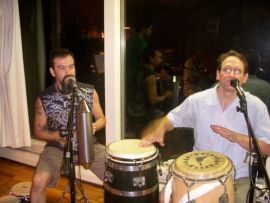 El Rumbon's collection of merengue, salsa, cumbia, plena, bomba, chachacha, and mambo create a nonstop dance party that starts with the tapping of the feet and moves all the way up the body until it spills out at the fingertips. Essentially, their music is meant to make the audience sweat.
Last April, Charlie Izzo, a researcher at Cornell University and conga player, formed El Rumbon in order to bring authentic salsa music to Ithaca's Latin dance community.
"My heart and soul needs this band to be playing in Ithaca," Izzo said. "It just blew my mind that there wasn't a real salsa band in this town given how many people love the music."
On Oct. 15, El Rumbon will premiere its music at "MambObama," a fundraiser for Barack Obama's presidential campaign, at Castaways. El Rumbon is scheduled to play from 8 p.m. to midnight but said it is willing to play all night if the crowd wants.
Junior Katharina Carella said she recently developed an affinity for salsa dancing and plans on attending El Rumbon's opening night.
"I started going to Salsa Night at Common Ground every Tuesday for social reasons," Carella said. "And then I realized how awesome it was."
Carella said she especially loves salsa for its upbeat tone.
"It's fun," she said. "You can't not love it. I'm so excited to hear El Rumbon's salsa music. I'm positive there will be dancing, therefore, I'm positive I will be attending."
To make Izzo's dream of making a salsa band a reality, he met up with Steve Reichlen '00 to form the group. Izzo had heard Reichlen play music and knew that he had a passion for salsa.
Izzo called upon a former bandmate, Cesar Encisco, to become the band's lead vocalist and bongo player. With Encisco's help, Izzo crafted the band name "El Rumbon," a Latin American term that means "big dance party."
Izzo said many years ago, he cherished one Latin CD above all others: "Tremendo Rumbon."
"When you listened to it, you felt like you were in the middle of a dance party," Izzo said. "It was the kind of jam sessions that were solely for dancing."
Izzo said this memory came back to him years later when he first thought of forming his own salsa band.
Encisco, a native Columbian, said salsa brings a different feel to any venue.
"A party in Latin America always has dancing," Encisco said. "I don't really understand the concept of a party with no dancing. No dancing, no party."
The percussion section of this eight-man band acts as the pulse that keeps feet in motion. Izzo, Encisco and Reichlen pound on congas, bongos and timbales respectively. Together they create a drumbeat that acts as the backbone for the powerful brass and string sections.
The brass section adds a sound that weaves through the air like a snake around the crowd. Senior James Covington plays the trumpet for El Rumbon. Paul Merrill '02 plays the trumpet and helps out with percussion. Ryan Zawel '05 brings the heat with his trombone, vocals and percussion mix. Bassist Harry Aceto sparks the beat, and pianist Josh Oxford '07 keeps up the high-paced tempo. With eight talented members, El Rumbon's music is passionate, energetic and bold.
Freshman Evelyn Santiago, a dancer for the Muevete Dance Company, said she believes salsa is a great way to teach others about the Latin dance community. The dancers and musicians share a love of El Rumbon's signature styles of music.
"Salsa music is one of the most essential parts of Latin dancing," Santiago said. "It's great to see that the Ithaca community is starting to see how influential it is."
Encisco said the band's music can't help but be loud.
"You won't be able to sit down, not without at least twitching," Encisco said. "You'll eventually end up getting out of your seat. You'll definitely want to wear comfortable shoes."
In addition to their premiere show at Castaways, El Rumbon will host a party Nov. 1 at Cornell University.
Izzo said he was excited for El Rumbon's debut and its upcoming shows. He said the group is currently in talks with Muevete about performing together in the future.
"The dates are starting to roll in," Izzo said. "We're very pumped."