To artist Momoko Takeshita Keane, pottery is more than an art form. It is a storytelling process connected to the earth shown through her molding of clay into and the firing of her kiln.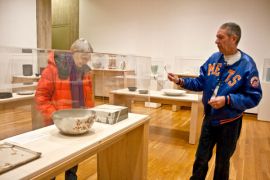 "Having some of that closeness to earth is something that I am trying to do in my work," she said.
Keane is one of the artists featured in the "Modern Japanese Studio Ceramics" at Cornell University's Herbert F. Johnson Museum of Art, which displays both ancient and modern Japanese, Korean and Chinese ceramic pottery. Her work mostly features bowls and other clay-made ceramics.
The exhibit highlights art created after World War II in a revival movement of Japanese art and tradition. Pieces of this exhibit were drawn from Johnson's permanent collection as well as loaned from private collections and will be shown until March 21.
Keane said the Asian-inspired exhibit is important for the community to see because most people do not understand pottery's importance.
"Usually American people's understanding of clay work of ceramics is of glazing, but in Japan their sense of beauty is much more natural and has energy from the soil or earth," she said.
Ellen Avril, curator of Asian art at the museum, said ceramics are an important aspect of Japanese tradition and culture. One tradition — the Japanese tea ceremony — became a way of embodying national and cultural identity every day. She said the ceramics that the tea master picks to use in the tea ceremony are highly significant.
"A guest who comes to a tea ceremony is expected to admire the ceramics — to admire the nuances of their shapes, their colors and their textures and how they feel in your hand and how they relate to history — the history of Japan or the history of the tea tradition," Avril said.
Keane said the art of ceramics was typically a male-dominated art, but she feels a sense of pride in her designs.
"These shapes are in some way female and reflective of birth, going back to when I was in the womb of my mother," she said. "This can only be from a woman's sense, not a man's."
Roald Hoffman, professor emeritus of chemistry at Cornell University, was inspired to create the exhibit after traveling to Japan. There he grew an appreciation for foreign ceramics and art.
"This raises interesting questions of the way we look at the world — the simplicity of it all," he said.
Hoffman said his interest in ceramics goes back 30 years when a colleague of his gave him a bowl, which is in the exhibition.
"It's the aesthetic of the contrast between simplicity and complexity," he said. "It's like abstract art. It's round, but it's not perfectly round. It's smooth and glazed, but then there are rough areas."
Avril said she loved the idea of the exhibit and decided to display pieces from the museum's permanent collection, which it has been collecting since the 1970s.
"Like any of our exhibits, our mission at the museum is to show a broad range of art from around the world that maybe a lot of students are not familiar with this kind of work," she said.
Each piece of art has a story behind it that links it back to some aspect of Japanese tradition. One piece in particular, by Hamada Shoji, titled "Bowl 1958," was inspired by the Arts and Crafts movement, Avril said.
On the opposite end of the exhibit are Chinese and Korean ceramics. The artists of these differently styled crafts used ancient techniques from more than 1,000 years ago to re-create the ancient glazes. But they gave the work a modern twist by adding rips or shadowing techniques, Avril said.
Ithaca resident Elena Gonzales, who is a regular visitor at the museum, said she loves coming to the museum and exploring its new exhibits. She said she enjoyed the piece by Hamada because of its historical value.
"It's history," she said. "It's just a visual depiction of it, and I love that."
With Keane's work it is clear that every artist has a distinct passion and process of creating their ceramics. Keane's husband, Mark, said his wife focuses on the natural connection between humans and clay, disregarding perfection and embracing irregularity.
"[She likes] that it will take a shape that you make … and if you put it in a fire, it takes on these wonderful characters," he said. "So you're not really doing a lot to it in the sense of covering it or perfecting it."
Keane said there is a part of the process in which the artist has no control and must let it go to a higher power.
"Usually artists have a lot of ego," she said. "Of course, a lot of it is my idea, but some part of it is totally a gift from the earth."