On a cold, blustery Monday afternoon, trees near The Commons sway in the wind while the action inside No Radio Records is considerably more static. Bob Proehl, the store's owner, sits at the check-out counter, immersed in his computer, while records and CDs sit on the shelves, waiting for an eager customer to snatch them up.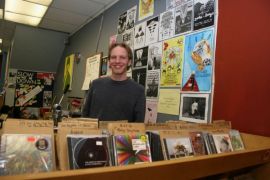 No Radio Records will close permanently because of low sales and other financial reasons on March 13. Located just off The Commons on East State Street, the shop has been a piece of downtown Ithaca for more than two years. Proehl said he originally envisioned the shop as a lively, performance-heavy venue like the record stores he visited as a college student.
"I wanted it to be a community space," he said. "You have this idea of it sort of being full of people all the time."
Proehl said changes in the music industry, however, have made it hard for independent stores to compete with online services like iTunes and Limewire.
"We came along at a really difficult time for this industry," he said. "Unfortunately, the industry has made a number of decisions over the past few years that have really hurt and, in some cases, seemed designed to hurt independent shops."
Some artists release exclusively to places like Best Buy or Starbucks, while other bands lower the price of a digital copy of their latest music. However, Proehl said small stores would still find an audience.
"It's a niche market," he said. "There's always going to be a small, dedicated group of people who want the physical object, who want a CD or want vinyl and need to have it in their hands."
Proehl said it was a difficult but necessary decision to close the store. He incurred significant medical bills last year after developing skin cancer and, as the sole owner, he said running the store has become too expensive.
"I have a full-time job that doesn't pay me," he said. "It doesn't give me insurance. Every now and then, it gives me a record or two — which is nice, but very few hospitals will allow you to DJ away your medical bills."
Proehl said, while it's difficult abandoning something he worked for, he's happy that the business hasn't clouded his love for music.
"There's something very different about standing in line at midnight to get the new Radiohead album, like I did when I was in graduate school," he said. "Given the choice, I'd very much prefer the former way of thinking about music."
No Radio Records will host its farewell show at 8 p.m. closing day, featuring Dufus, a local band, and Jeffrey Lewis, a New York-based anti-folk singer. Seth Faergolzia, Dufus founder, said the performance will be bittersweet because the band played the store's opening as well.
"It definitely makes me sad that it's closing," he said. "I had some really fun nights there, and I think it has been a stronghold for underground bands that want to hit Ithaca."
Sophomore Cathleen Hannah, who has attended several shows at No Radio Records, said she'll miss the store's music selection most of all.
"It's cool having stores like No Radio that have records from bands you normally couldn't find," she said. "I'd miss having that in Ithaca because it's something we have that not a lot of other places have."
Ithaca Underground, a local concert-planning organization, arranges shows for the venue. Bubba Crumine, in charge of booking and promotions for the group, said No Radio Records was the perfect location for shows.
"Kids would go to a show at No Radio just because there was a show at No Radio," Crumine said. "There's a different scene around No Radio."
Performances will continue at this location when The Shop, a café and music venue, takes its place in April. Phoebe Aceto, the new owner, said she plans to sell music and merchandise from local bands, as well as maintain the store's community sense.
"It's pretty much going to replace that casual hangout spot so anyone can feel welcome," she said. "[We want] live music as often as possible in the evenings."
Proehl said The Shop will be a positive replacement for the independent music shop.
"Using it as a community and performance space was definitely a crucial part of [my original model], and I'm really happy that aspect of it is going to continue, albeit in a different form," he said.