Despite being a pop-rock band, OK Go may be better known to some for its fancy footwork on treadmills in the music video for its song "Here It Goes Again." Contributing writer Amanda Winters spoke with drummer Dan Konopka via e-mail about how the band plans to continue to go the distance in the music industry.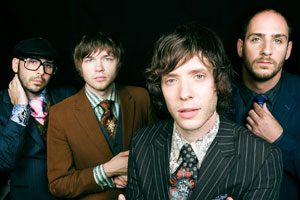 Amanda Winters: How do you feel about the role the Internet has had in your success, while drawing criticism (like from the band Hinder) for having more flash than substance?
Dan Konopka: I'm grateful there's a place where people can be as creative as they want. Everyone's invited to the party, and we decided to come with pretty decent party treats. I believe Hinder is just trying to make fun. I laugh when I think of band rivalries. It's a great way to get people to talk about your project without being very creative with music.
AW: How have each of you contributed to the band, especially since long-time bandmate Andrew Duncan has been replaced by Andy Ross?
DK: I feel the producer, Tore Johanssen, made us get to the base of our technical and stylistic abilities. I'm excited about our new Andy. … He's going to bring a new and even more adventurous attitude to our writing and recording process.
AW: How has fame changed your relationship with fans, friends and family?
DK: I can still get through an airport without being noticed once. The other boys do lots of interviews. Sometimes I'll get the occasional "Do you remember me from 8th grade homeroom?" e-mails. … I think we'll have a better perspective on [our fans] as our tour gets going here in the states.
AW: How has your sound evolved compared to your last album?
DK: I think we want to make the best records we can possibly make. With the second record, we let Tore take the reigns and be accountable. I think we purified our sound and feel. I think with the next record we might [keep trying different things] with less conventional sounds.
AW: Is there any wisdom you'd like to impart on people vying to break into the industry?
DK: Play lots of shows … . Hang out with healthy, creative people if you can. If you're in it for the money, quit now. Don't ever think you're going to make money personally in this biz. That way, when you finally do [make money], you'll be very happy.