With the Academy Awards on Sunday, Hollywood is preparing to recognize the best films of the past year. Accent writers Miranda Pennington, Harry Shuldman and Ben Tietz, on the other hand, would prefer to dish out their own brand of awards to their personal favorites.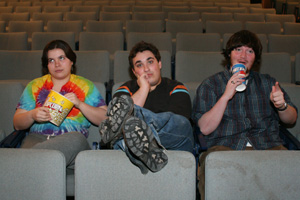 Best Nude Fight Scene
"Borat"
In the midst of all the acerbic cultural lampooning and revealing interviews, one element of Sacha Baron Cohen's searing indictment of the American landscape stuck out in the audience's mind: the wrestling scene between him and his 400-pound co-star, Ken Davitian. Done completely in the nude and spanning an entire hotel — upsetting businessmen and elevator-goers alike — the two battled for the delusional love of Pamela Anderson. No one in America was prepared for that.
— Ben Tietz
Best Non–Dakota Fanning Child Actress
Abigail Breslin, "Little Miss Sunshine"
Abigail Breslin is the thinking child's Dakota Fanning. She's about more than big blue eyes and precociousness. Breslin does her superfreaky dance for all aspiring beauty queens and their warped families. The Best Supporting Actress award may go to someone else, so this award honors her for making her own choices. Plus, anyone who can pull off a leotard and hot pants should not walk away from the Oscars empty-handed.
— Miranda Pennington
Best Polar Opposite of "High School Musical"
"Brick"
If Dashiell Hammett ever got the chance to write for "Saved By the Bell," his efforts
might have turned out something like "Brick." Like "Welcome to the Dollhouse" and "Elephant," "Brick" artfully explores the dark side of high school, with a 1940s noir spin. The film's locker-lined corridors are packed with guns, dames, kidnappings and maybe even murder, all without the absurd theatrics. The world-weary-at-17 protagonist, Joseph Gordon-Levitt, conjures his inner Sam Spade, leading the viewer through the dark hallways of Rydell High meets "The Maltese Falcon."
— Harry Shuldman
Best Horror Film
"An Inconvenient Truth"
Forget "The Grudge 2." Forget "The Descent." Forget all the other gory junk Hollywood likes to call horror and spoon-feed to undiscriminating audiences. The one film that truly resonated with scary immediacy across the nation was Al Gore's cinematic PowerPoint presentation on global warming and its effects on an international scale. Despite its clinical approach to such a problem, the film nevertheless led to an ever-growing consciousness in America about how the nation is not as invincible as many would like to believe. The film also shows how an individual's actions can create positive change.
— Ben Tietz
Best Performance By An Actor Not Actually Appearing in the Film
Robert F. Kennedy, "Bobby"
In the best involuntary casting since "Bowfinger," "Bobby" incorporated significant performances by Senator Robert F. Kennedy, all taken from 1960s news archives. "The Queen" does something similar for Princess Diana, but fails to convey the same breadth (indeed, any breadth) of character or inspire anew the adoration of an enigmatic public figure. "Bobby" tells an icon's story through the lives of aides and supporters in a vivid, expressive way. Caught as it is between documentary and invention, "Bobby" deserves better than the lack of validation it received from the Academy.
— Miranda Pennington
Best Performance By A Prada™-less Meryl Streep
"A Prairie Home Companion"
Call it karma or destiny that a movie about "the final show" would become Robert Altman's final film. In the spirit of his brilliant work on "Nashville," Altman once again stylishly weaves a dozen or so eccentric musical characters together into one cohesive narrative. Woody Harrelson and John C. Reilly steal scenes as Dusty and Lefty, sort of a country-western Flight of the Conchords with cornier jokes. Meryl Streep and Lindsay Lohan (in a rare moment of sobriety) give sweet performances as an overbearing mother and a skulking daughter, respectively. They both sing pretty well, too. Streep certainly deserves her Oscar nomination this year for "The Devil Wears Prada," but it should have been for this film.
— Harry Shuldman
Best Appearance in a Bathtub
Hugh Jackman, "The Fountain"
This overlooked but brilliant film made significant strides toward getting Hugh Jackman unclad on the big screen, and that needs to be rewarded. It also had tremendous special effects, exquisite art direction and it provided Jackman with his meatiest role to date. But there are already awards for those things. What needs to be recognized is the scene where Jackman finally begins to confront his wife's illness, joining her in the bathtub in a frenzied celebration of life and survival. It's exhilaratingly beautiful and tragically wrenching at the same time.
— Miranda Pennington
Best Documentary Not About Global Warming or Fundamentalist Christians
"The Devil And Daniel Johnston"
Rock history is loaded with cases of musical geniuses who may have also had mental illnesses. Unlike Syd Barrett or Phil Spector, Daniel Johnston has actually been hospitalized at a mental hospital. In the style of "Capturing the Friedmans," director Jeff Feuerzeig reveals incredibly intimate moments because his documentary subject had already videotaped or recorded almost all the significant events of his childhood. One doesn't have to understand or even like Daniel Johnston's music to appreciate what a fascinating person he is. The film gets viewers as far inside Johnston's head as they can go, without losing their own minds in the process.
— Harry Shuldman