While "Ithaca is Gorges" has been Ithaca's tagline for decades, a new web series depicting the region's true beauty is about to give Ithaca's tourism industry a 21st century update.
Park Productions teamed up with Finger Lakes Wine Country and the Tompkins County Convention and Visitors Bureau in 2008 to create "Finger Lakes Uncorked!" Students, teachers and Ithaca locals collaborated on the project to capture the natural beauty of the Finger Lakes region. The fictional nine-part series will premiere Sunday as part of the Finger Lakes Environmental Film Festival.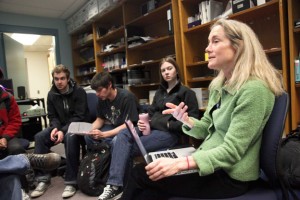 "Finger Lakes Uncorked!," which is made up of five-to-seven-minute webisodes, follows the story of Craig Vinholtz (David Moreland), a magician with a love of wine, a depleting bank account and a troubled marriage. Vinholtz sets out to win an organic wine competition to replenish his funds and rekindle his romance with the grand-prize — a romantic vacation getaway.
Carol Jennings, director of Park Media Lab and executive producer of "Finger Lakes Uncorked!," said the idea for the web series came from Adam Rivera '08 and Erin Ozmat '08, two Park Productions alumni who wanted experience producing video for the Internet.
But to fund the project's production, the organization needed sponsors. Jennings said she first thought to solicit the series as a promotional video for the Tompkins County Convention and Visitors Bureau because it had funded her projects before.
"We had done a lot of work for the Visitor's Bureau … to promote Ithaca and the Finger Lakes as a tourist destination on broadcast outlets like Home and Garden Television or PBS," she said. "The easiest way to get featured on a show like that is to have really good shots of the area that the editors could use. That's what we did. We provided them with the video."
Dred Bonn, director of the Tompkins County Convention and Visitors Bureau, said the series not only shows the natural beauty of the Finger Lakes, but also its culturally rich community — without being too serious.
"We wanted it to have a touch of humor," he said. "We wanted it to have the story line that fit with the personalities and businesses of the Finger Lakes region, which it does a great job of."
Moreland, a local magician who plays Vinholtz in the series, met Jennings while working at a birthday party. Jennings said she had envisioned Craig, the main character, as a quirky guy who could carry the story through the series. She said she was intrigued by
Moreland's past experience as an actor and cast him as Craig — magic tricks and all.
Moreland said he found humor in a scene where his character fails to entertain a sour group of children, who view him as a fraud, because it reminded him of the times his own acts went poorly.
"I got my nightmare magic show — a magic show in front of a bunch of surly children where everything is going wrong," he said. "That was a lot of fun, because it brought up all those occasional shows from the past when things went wrong."
Park Productions chose to highlight local businesses like the Corning Museum of Glass, the Sciencenter and Sheldrake Point, as well as natural landmarks in the series. Moreland said he enjoyed traveling to the scenic production sites.
"We shot some beautiful scenes of me riding my bike along the lake and through the Cornell campus and in front of some of the waterfalls in town," he said. "They've really gone out of their way to make the series like a picture postcard of everything that's beautiful about Ithaca and the Finger Lakes region."
Christopher Manza, a senior cinema and photography major, worked as a screenwriter, still photographer and production assistant for the series. He said he was interested in joining the project for the same reason he was interesting in coming to Ithaca College.
"It was watching the environment, the way it took place in the Finger Lakes region and the beauty of it," he said.
Luiggi Ramos, a junior cinema and photography major, was a student producer for "Finger Lakes Uncorked!" He said working for a project that combined college students and Ithaca locals to produce a professional product helped him realize he wanted to pursue a producing career. Ramos also said working closely with his professors was a different learning experience than those in a traditional classroom setting.
"As a student, I looked up to them in the classroom, and the ability to work with them kind of broke the barrier between teacher and student and made it more of a collaborative effort," he said.
Moreland said he enjoyed working with Ithaca College students because of their professionalism while filming and for the quality of work they produced.
"It looks like any feature film you would see at Cinemapolis or any movie theater," Moreland said. "They're professional, and they're focused. You can see why Ithaca College graduates so many people who work in the film industry."
To view "Finger Lakes Uncorked!" visit http://uncorked.parkproductions.org on Sunday.