Pizza enthusiast Scott Wiener, owner of Scott's Pizza Tours, is a graduate of Syracuse University and longtime resident of New Jersey.  He followed his heart and stomach to leave the world of municipal event planning to start Scott's Pizza Tours in New York City. TripAdvisor ranks these walking and bus tours of the best pizza in the Big Apple as the ninth best tour in the United States. Wiener will speak about pizza and life from 11 to 11:50 a.m. tomorrow in Textor 103.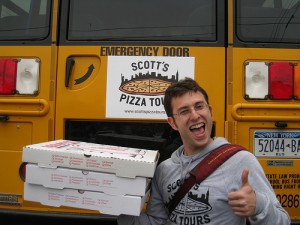 Staff Writer Lucy Walker spoke with Wiener, as he took a break between prepping his garden for tomatoes and diving into a new dough recipe, about beginning his first pizza journal, finding the best pies and following your passion.
Lucy Walker: Why were you originally traveling across the country, and how did you start keeping a record of the pizza you ate?
Scott Wiener: I was in a band, and whenever we had a break from college, from school, we would head out, play a bunch of cities and always record whatever pizza we ate in a pizza journal. The pizza journal was just something that a friend of mine made for me and said, 'Hey, you eat so much pizza on the road, why don't you keep track of it?' So I started keeping track of it. When you start keeping track of something like that, you realize how different pizza is everywhere you go — just like, in Ithaca, totally different from if you were in California, if you were in San Francisco, totally different pizza.
LW: When did you decide to start conducting pizza tours?
SW: The thought process started in October of 2007. I had a birthday party, — I invited a bunch of friends; I rented a party bus, and we just drove around New York, and we ate pizza all day. It was pretty cool, and then about six months after that I actually started doing the tours.
LW: Where do you go now when you travel?  Is most of your travel pizza-related?
SW: [I went to] Italy last month, and I just came back last week from a pizza convention in Los Angeles. Yeah, it's always pizza-related; pretty much every trip I ever go on is pizza related. I went to Italy to investigate buffalo farms, some famous pizzerias I'd heard about but never been to — investigating Sicilian pizza, I went to Sicily to look into that.  It just kind of all fits, everywhere you go, it's all pizza-related — olive orchards, and when you start talking to somebody, the next thing you know, you're at a flour mill, and you're learning about a flour that can help pizzerias.
LW: What do you think the best pizza city is? Somewhere in Italy or New York City?
SW: It depends on what you're looking for because, as far as cities go,  variety is what is in a good pizza city — having a lot of variety.  If there's only one style available, it doesn't really do as much for me.  But New York has a ton of variety. San Francisco has a ton of variety.  Those are both just really solid pizza cities.
LW: If you had to pick one pizza place in New York City as your absolute favorite, what would it be?
SW: That's an almost impossible question because all the styles are so different. If you're talking about a New York slice, that's a different pizza than a Neopolitan pizza or a Sicilian slice so I don't know. For a New York slice, there's a place called Carmine's on the Upper West Side, and there's a place called Joe's in Greenwich Village, and those are both really solid.
LW: On your tours, cheese slices are the standard as good, unbiased samples of the pizzerias.  But when you're off duty, what's your favorite topping?
SW: If there was going to be one, besides lcheese and tomato and basil and all that, it would be sausage. There's so much variety — shaved sausage, crumbles, chunks, in the casing, out of the casing, fennel sausage, hot sausage.  Pepperoni is pretty standard. I like mushrooms, but you need to buy good mushrooms.
LW: Do you make a lot of pizza yourself?
SW: I'm getting ready to make some tonight. We're cooking at least nine different pizzas, maybe 11.
LW: What's your advice for students who want to do something off the beaten path after graduation?
SW: It's definitely all about immersion. It's about being so into something that you don't mind it taking over your life. Maybe somebody's an accountant who's doing it just because you can get jobs in accounting. You can get burnt out on something like that, but I don't think you can get burnt out on something you really love. Aspects of it will burn you out because there's a lot of work involved with it, but as long as you love it, then that's the best thing you can do. Because at this point, because I'm so immersed in it, I really like doing it every day, and I just look forward to it.
Dan Lane and Erin Moore, co-founders of Good Eye Video, a production company that makes educational materials for nonprofit organizations, will also be speak with Wiener tomorrow.  For more information on Scott's Pizza Tours, visit www.scottspizzatours.com.