The posh, fashionable socialites of "Gossip Girl" may have to pack up their Gucci bags and Versace gowns to make room for a new cast of gossiping characters soon to hit the Ithaca College theater scene.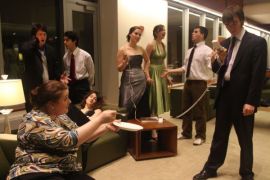 They are none other than the characters in the IC Players' production of "Rumors," written by Pulitzer Prize-winning playwright Neil Simon. With a slight grin and an assuring nod, junior and director Dave Grossman said the play will be "two hours of hilarious, fast-paced tension."
"Rumors" is the farcical story of four couples who arrive at the upper-crust home of Charlie and Myra Brock — two characters who are never seen — for a lavish anniversary dinner. The first couple to arrive, Ken and Chris Gorman, find their host Charlie in his room with a gunshot wound in his ear lobe. His wife is nowhere to be found.
In an effort to conceal the "complication," the two fabricate stories, ideas and rumors to distract the arriving guests from the incident. Their attempts lead to an evening of misconception, twists, turns and back spasms — eventually involving the intervention of the police.
The high-society characters clamor to protect a secret that starts as an inaudible whisper and gradually builds into an issue affecting everyone in the house.
Sophomore Ana Maria Mutchler, who plays Claire Ganz, the resident gossip girl, said there isn't a dull moment in the show.
"It's one of those shows that you have to pick up on the little things because they'll come back," she said.
Grossman said he is happy to bring "Rumors" to IC Players. He said actors like Mutchler play their roles to near perfection.
"Ana Maria comes in every day with questions about her character and then in every run-through, does it a little bit differently and adds a little something extra to [her role]," he said. "I looked at [the show] yesterday for a bit and thought, wow, every person in this cast is absolutely perfect for their part."
Senior cast member Joe Roksandic, who plays the intermittently stressed analyst Ernie Cusack, said the characters in the play represent exaggerated personalities of realistic people.
"Everybody is a character," he said. "They're not real at all — they're caricatures. There's a base of reality, but they're all kind of nuts."
Senior Ashley Morris, who plays the busybody Chris Gorman, said her experience in her role was a particularly interesting one because she has played Chris in another production of "Rumors."
"It's interesting to see the different ways in which I can create her into a new person, so I'm not just replicating what I did the first time I did it," she said.
The IC Players' production of "Rumors," much like other comedies by Simon, promises fast-paced action and slapstick humor. Morris said the audience will easily relate to the comedy she and other actors bring to the stage.
"It's got a lot of humor that you don't have to really work to be amused," she said. "It's flat out there funny."
Roksandic said under Grossman's direction, the craziness of the characters has shone through in rehearsal.
"I've worked with [Grossman] before … he knows what he's doing," Roksandic said.
Grossman said his vision for the show was simple and unadorned to let the audience have a good time.
"It's a farce," he said. "The point of it isn't to come away with a moral or some really big message, I just want people to leave the theater and say, 'You know what? The last two hours were a lot of fun.'"
"Rumors" will be performed at 8 p.m. Saturday and Sunday in Clark Lounge in Campus Center.