Paul Canetti, lead singer of Love and Logic, said he picked his band members off the Internet. And now, a year later, the group returns to cyberspace to sell its music.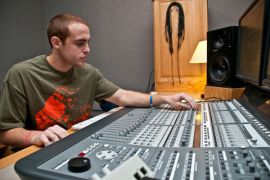 By surfing through Facebook, Canetti found bassist Dan Haller, cellist Annie Kim and drummer Derron Walker. He said the easiest way for him to gather his band was to ask around via his Facebook status.
"Whether it be putting in a status or even just seeing in my news feed that Annie played cello, we all got together on the Internet," Canetti said.
For independent bands like Love and Logic, going viral not only makes finding musicians easier, but it also gets the band's music to listeners — something that is more profitable than selling physical CDs.
A research and strategic analysis published in 2008 by the Recording Industry Association of America said the sales of digital music now constitute 32 percent of the total market value. It found that digital downloads grew 30 percent and album sales dropped 14 percent in 2008.
Haller said the band copied an idea from the band Radiohead, in which listeners choose how much they want to pay for the album.
"We released our EP and then another single after that on this Web site called Bandcamp," he said. "[It] basically lets you charge whatever you want, or people can name their price."
Steven Pond, professor of musicology at Cornell University, said consumer attitudes and music purchasing methods have shifted over time.
"Peoples' consumption patterns have continued a trend that began in the '90s, which is to go less and less to the regular box store and more towards files that are either downloaded legally or shared illegally," Pond said.
Years ago, using the Internet to distribute music would have been seen as unconventional, though Pond said he is not surprised to see how well bands have adapted to the now-common practice of Internet distribution.
Senior Jon Kagan is using the Internet to record and release his rap music. Kagan has been writing his own raps since he was 11. Now, in his final year of college, Kagan said he plans to finish recording his first EP.
"I promised myself as a testament to show that school didn't get in the way of music that I would finish and distribute an EP before I graduated," he said. "Last year, during winter break, I completed it. Now it's being mixed and will be distributed at the end of November, as a free download and as a hard copy in December."
Kagan said, with the help of his recording engineer, he promotes his music on his own Web site, which Kagan hopes will soon have a free link to download his EP, "Pieces."
"We also [want to distribute] on Imeem and different sites [like] iTunes and Pandora," he said. "We want it to be more accessible in many locations. That's the goal. At the end of the day, I just want someone to get it."
Local musicians New Neighbors also discovered the convenience of digital distribution companies and the benefits of using them as opposed to the outdated method of physically handing out hard discs. Lead singer Nathan Terepka said using a distribution company was relatively simple.
"There's a lot of different services that can connect you with online distribution companies, such as iTunes and Napster," Terepka said. "We did it through a company called CD Baby. It's really not a mysterious networking thing."
As long as independent bands and artists maintain ownership rights over their music, digital distributors can bring in a significant amount of money for the bands.
Terepka said that independent bands can expect a healthy return on their investment by using iTunes.
"If you're selling your CDs independently, outside of a label, you take the whole thing," he said. "ITunes does not take a very large percent."
Though Love and Logic still brings about 30 hard copies of its album to sell at live shows, the band makes most of its profits off of the Internet, Canetti said. The band makes 80 percent of its sales from digital sales and 20 percent off of CD sales.
"Our Internet presence has brought in a lot of people to our Web site and to our download site," he said.
When Apple's iTunes sells a song for 99 cents, recording labels make about 70 cents per download, according to RedOrbit.com, a technology-based online news feed.
Love and Logic uses the online digital distributor Tune Corp. Canetti said after working as a creative manager at an Apple store in New York City, he realized going straight to iTunes would be too difficult to do without another company's help.
"When you sign a nonexclusive agreement with [a digital distributor], they put your music on iTunes, Rhapsody, Amazon, Napster," he said. "Basically, iTunes is too big of a company to deal with small bands, so we had to go through some sort of distributor."
Emusic.com distributes independent bands' music on its site. Sean Fennessey '03, former music editor of Vibe magazine and now a member of the editorial board for Emusic.com, said CD distribution companies have become an integral component of spreading an artist's music.
"The philosophy hasn't changed," Fennessey said. "It's the amount of avenues that you have to promote yourself."
Haller said using the Internet to distribute Love and Logic's music has made them enough money to continue touring, but the goal of the band is to make music people can relate to — not just to make money.
"The Internet's the perfect medium for that because obviously you don't have to be in any specific place, or you can listen to things on your own time," he said. "The goal is to get the music into as many people's hands as possible — not to make as much money as possible."