Every year, the Princeton Review, an American educational preparation company (not affiliated with Princeton University), releases a list of the best college programs, departments and social characteristics, among other categories. This year, the college was honored with two nationwide rankings: No. 1 for best college radio and No. 9 for best college theater.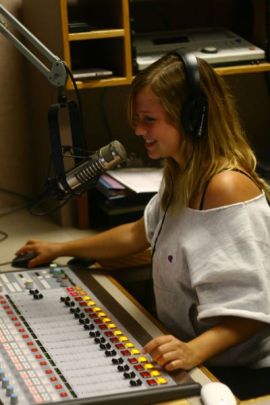 The review looks at colleges across America and compiles a list of the "Best 371 Colleges." These schools are then placed into separate, narrowed categories.
In a press release published by the Office of Media Relations, Robert Franek, Princeton Review vice president of publishing, said the decisions were made through extensive research.
"We make our choices based on institutional data we gather about schools, feedback from students attending them and input from our staff who visit hundreds of colleges a year," he said. "We commend Ithaca College for its outstanding academics, which is the primary criteria for our choice of schools for the book."
WICB has consistently been ranked in the top 10, but this is the first year the radio station has been awarded the coveted first position.
Some of the schools the station placed higher than include St. Bonaventure University, Emerson College, Brown University and Stanford University.
Senior Sarah Paolantonio has been working at WICB radio since she was a freshman and is now the talent coordinator for the station.
Paolantonio said the reason WICB garners so many awards is that the station upholds important professional values.
"I think it's our uniqueness and our formality," she said. "A lot of college stations do not have a scheduled hour every hour of the day. A lot of people who I know in [other] colleges just go into their radio station, play whatever they want for a few hours and go home. But we have a structure."
WICB waves reach out beyond the Ithaca community and New York state lines. Through their online live streaming radio and a signal that reaches as far as Pennsylvania and Lake Ontario, WICB's sphere of influence is difficult to ignore.
Despite the constant speculation that radio is a dying industry, Chris Wheatley, manager of radio operations, said WICB and its sister station VIC bring a fresh perspective on the purpose of radio in today's ever-changing media.
"Terrestrial radio is still cool, it's still relevant, and it still enhances people's lives," he said.
A few buildings down from the Roy H. Park School of Communications, where WICB is based, lies Dillingham Center, home to the thespians of the college. Actors, singers, dancers, directors, stage managers, dramaturges and just about any other type of theatrical arts major enter the doors of Dillingham each day to perfect their craft.
The department's No. 9 ranking in the best college theater category answers the question, "How popular are college theater productions?" IC theater topped schools such as Brown University and Knox College. Vassar College, Drew University, Carnegie-Mellon University and Yale University were among the eight schools that scored higher, Drew being ranked No. 1.
Sophomore musical theater major Mary Malaney said the recognition was overdue.
"I think we're finally getting the credit that we deserve," she said. "I hope this gets more kids picking [Ithaca]."
In 2001, the theater program was ranked second best in the nation and 14th in 2005.
Sophomore Meg Glassco said even though the rankings have been a bit inconsistent, theater majors still have a reason to take pride in entering the halls of the college's beloved hub for the dramatic arts.
She said the atmosphere of Dillingham is unlike any other.
"There's music wafting down the hallways, and there is so much talent here," she said.
Malaney said she was surprised by some of the schools ranking higher than the college — particularly Drew University.
"I've never even heard of [Drew]," she said. "I don't know who they are, so I guess that's a little weird."
Glassco said regardless of the ranking, students have positive experiences at the college.
"I wouldn't even worry about what rank we are," she said. "That's not a good way to judge what the students are really getting out of it. Everyone's experience is completely different."