At Ithaca College, students are constantly showcasing their work — their art, their theater and their media — but every so often, the Ithaca College faculty get a special opportunity to formally share its work with the rest of the campus and community.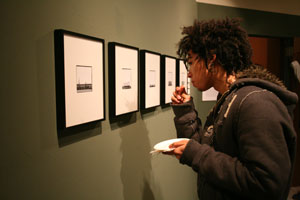 The 2008 Ithaca College Faculty Art Show at the Handwerker Gallery, which formally opened last Thursday, exhibits a diverse blend of art styles and media, ranging from photography to paintings to sculptures. A faculty exhibition is held every other year and this year's features 12 faculty artists from the art, television-radio and cinema, photography and media arts departments.
"[The faculty art show] is one that everyone looks forward to," Handwerker Gallery director Cheryl Kramer said. "It's a very exciting show. It gives a broad view of contemporary practice at Ithaca College."
Faculty exhibitions allow professors to share their work and also encourage students to observe and consider work their teachers are producing.
Bill Hastings, a lecturer in the art department and a featured faculty member in this year's exhibition, said students don't always realize that professors are active in the professional world while teaching.
"It's one of the rare opportunities that our students have to actually see faculty work so you see where they're coming from," he said. "It's kind of a double-edged sword because it could send the message 'this is perfect work and we want you to go in this direction,' and that couldn't be more far from it."
Many faculty members echoed Hastings' thought that students may think they should imitate their professors' work, but Steven Skopik, professor of cinema, photography and media arts, said it is more satisfying when their art evokes engagement and not imitation.
"Their teachers' art can serve as a bit of inspiration for some students if they discover that a faculty member is doing the type of work that they are interested in," Skopik said.
Janice Levy, associate professor of cinema, photography and media arts, said seeing professors' work helps students understand their mentors in a different way.
"Seeing somebody's work allows you to get into their head in a very different way — [it] lets you get into the artist's realm," Levy said.
Kremer said an announcement is sent to practicing artists in the School of Humanities and Sciences and the Roy H. Park School of Communication. Twelve of 15 artists contacted are participating in this year's show.
The smaller number of artists and the exhibition's sprawling setup allows for
focus on each individual artist and their work more than in past exhibitions, according to many of the artists, including Susan Barbehenn, assistant professor of art, and Ahndraya Parlato, lecturer of cinema, photography and media arts.
"[The exhibition] was not crowded out by other work [being shown in the gallery], so that you really could appreciate each individual piece in and of itself without being distracted by the other work," Barbehenn said.
Using all of the gallery's rooms and removing other works from the Handwerker allowed each piece on display to be comfortably viewed, Parlato said.
"Everyone's work was given enough space to exist as its own entity," Parlato said.
The diversity of the exhibit is evident as visitors walk through the multi-room gallery. The color, size and medium of the pieces change drastically as viewers move from piece to piece and artist to artist. Bruce North, associate professor of art, said seeing the pieces in person is important.
"The idea of seeing the size of it, the scale of it, the presence of it, seeing textures — that's a reality," North said.
The 2008 Faculty Art Show is on display until Feb. 19. The Handwerker Gallery is open Monday through Friday from 10 a.m. to 6 p.m. and on Saturday and Sunday from noon to 5 p.m.