Similar to many professors, Mike Titlebaum keeps his door open for students, but what sets him apart is his devotion to help them as soon as possible — even in the midst of an interview.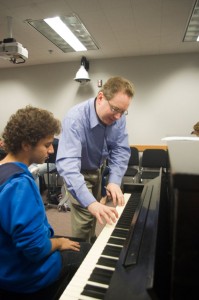 Junior Emily Pecoraro came into Titlebaum's office for help on a composition. The pair worked on her piece for 20 minutes until they were satisfied with her progress. He then returned to the interview.
Saxophonist, composer and all-around music enthusiast, Titlebaum is in his third year as director of jazz studies at Ithaca College. In his time at the college, Titlebaum has strengthened the selective major with new classes and ensembles.
Titlebaum said the saxophone and jazz has always been a part of his life.
"For me the saxophone has everything," he said. "It has warmth as well as some grit. It's beautiful in both classical music settings and jazz."
Titlebaum's wife, Catherine Gale — also a lecturer in the program — said his all-around talents are what make him an effective teacher.
"He has a wide range of musical strengths," Gale said. "He's a great player, he's a good composer and he's a very good teacher — very good with people."
Titlebaum said he knows the impact that seeing and playing music from a young age can have. Listening to jazz in Rochester, N.Y., where he grew up, was formative in developing his love of the style.
"I remember my mom took me to hear him at some bar; I was probably 6 years old," he said, referring to family friend and drummer Brad Paxton. "I was just sort of captivated by the rhythmic feeling of the music."
Titlebaum began playing the saxophone in fifth grade, and by the next year he had started composing with a neighborhood friend. Their friendly competition helped to make Titlebaum an even better musician.
"He was much better than me at first, so I really had to work hard to sort of catch up with him," he said.
After attending the Eastman School of Music, he graduated in 1991. He then went on to perform with a band in New York City and work as a software programmer.
He was re-introduced to his love of teaching in 1995 when explaining theory to a fellow musician one evening.
"I saw the light go on over his head, and I realized I missed that," Titlebaum said. "The moment when you've actually connected with someone, actually enhanced their understanding of the topic based on your understanding of the topic."
Several years later, Steve Brown, then-director of jazz studies at the college, announced he was taking a sabbatical year before his retirement, and the search began for his replacement. The opportunity was one Titlebaum could not pass up.
"I heard about it and I told my wife, 'I gotta go for this. This is a fantastic opportunity,'" Titlebaum said. "She said, 'All right, we'll try it."'
With that enthusiasm, Titlebaum has put his own stamp on the selective jazz studies major. This included adding an introductory jazz theory class, a third student jazz ensemble to meet the increasing interest and a composition contest.
This year he introduced the Ithaca All-Star Jazz Invitational from 9 a.m. to 9 p.m. Saturday to spread the college's program to high schoolers. He said it is a chance to target committed, pre-college jazz students.
"I wanted an opportunity to recruit aspiring jazz musicians, to show them that we have a vibrant jazz program here," Titlebaum said.
In addition, Titlebaum has added performances by the jazz faculty ensemble. Titlebaum said professor performances are excellent lessons for students.
"It's important for us as performance teachers to do some performing," he said. "We never want to say to our students, 'Do what I say, not what I do.'"
Senior Lisa Meyerhofer, a flute performance and education double major, is taking Introduction to Jazz Studies with Titlebaum this semester. She said seeing teachers perform is an important lesson.
"It gives [students] more to work with when we need more than just the facts," she said. "[Titlebaum] can apply things a lot better to the real world."
Sitting down at his piano, Titlebaum said even mistakes, which are not uncommon in jazz, can be a teaching tool. He explained an instance when playing "In Your Own Sweet Way" by Dave Brubeck that he learned playing the wrong note could lead to a better one.
"All these things are circling through my head, 'Oh my gosh, I'm never going to be a successful musician,'" Titlebaum said. "Time stopped for a moment. And I realized, 'Wait a second, I can fix this.' You're never more than a half step away from a better note."
The All-Star Jazz Invitational will be an opportunity for the jazz studies program to grow. Titlebaum said it will be a fun day of jazz enthusiasts sharing their passion.
"It will just be one big day of learning and playing jazz," he said.