Norman Johnson's class moves like a zombie dance party. Actors lie rigid and shaking on the floor, eventually coming to life as they court one another with elaborate, improvised contortions of every limb possible.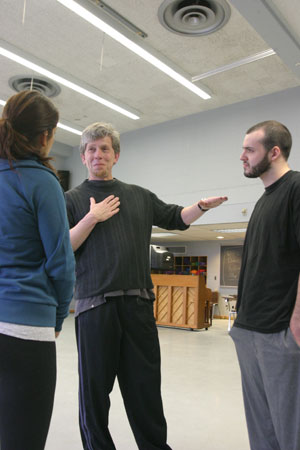 Johnson, associate professor of theater arts, circles with a keen eye for controlled madness, offering advice to certain students and letting others continue undisturbed as they pursue something quite unlike a typical research paper. At varying intervals he shouts instructions like, "Snakes!" and "Starfish!," commands seemingly mysterious to the casual observer but quick to push his students into new positions.
Senior Erin Callahan is auditing Johnson's movement class after having taken it her sophomore year.
"I came back mostly for him," Callahan said.
Callahan said she enjoys Johnson's classes because of his teaching style.
"He tries to fine tune his feedback to each individual," she said. "He seems to often go back and take a fresh look at how he's teaching."
Johnson has been a professor at Ithaca College for 19 years, having directed a host of on-campus productions including 2005's musical "Grease." Less recently, he cites his work on 1994's "The King Stag," 1997's "The Pirates of Penzance" and the post-Sept. 11 performance of "Parade" as personally memorable moments in the college's extended theater tradition.
Depsite his love of theater, Johnson originally started going to school to study veterinary science. He said his move to theater came following a revelation that all of his activities revolved around music and the arts.
To satisfy a lingering passion, however, Johnson said he began breeding peacocks as a continuation of his previous dabbling in color genetics and animal science, including "intense involvement" with horses and work with literal black sheep.
"I have about 80 [peacocks]," Johnson said. "I started as pre-vet in college and have always been interested in genetics."
Though Johnson teaches at the college, he is guest-directing an adaptation of Andre Gregory's "Alice in Wonderland" at Cornell University. Johnson said the play is of particular interest to him because seeing the original production in New York City was a formative experience. Production of "Alice" historically breaks with the narrative, spectacle-oriented goals of Broadway theater and delivers a performance grounded in movement.
"[Gregory's production company was] working in physical theatre," Johnson said. "A lot of people were questioning the value of spectacle theatre."
As a student, Johnson marveled at the intense, physical work being done by companies like Bread and Puppet and The Living Theater. Those groups were "more reliant on what the actor could create in an empty space," Johnson said, which stands in stark opposition to the economic enterprise of Broadway.
In directing "Alice in Wonderland," Johnson borrows Gregory's avant-garde approach to Lewis Carroll's classic source material, evoking a lost innocence and disturbing imagination barely scratched in the Disney adaptation. Johnson's production is at no loss for originality, integrating video projection technology with a demented set design and carnival-like costumes. Shown in a series of disturbing vignettes of escalating, madcap tension, "Alice" was remarkably pieced together in 12 rehearsals.
"It is a completely fresh take," said Jeff Guyton, an actor in Cornell University's Resident Professional Teaching Associate program.
Guyton also experienced the turmoil of the late 1960s, out of which new perspectives like Gregory's original "Alice in Wonderland" adaptation were borne.
"[Johnson] kept that essence so that it felt to us, in a way, that it took us back to '68, '69," Guyton said. "We talked about what it was like. … He kept the 'why?' and changed the 'how.'"
Johnson himself is modest when discussing his success.
"I have been spoiled by the quality of the students I get to teach [at Ithaca College] and the support of my colleagues," he said.
Cornell senior Natasha Pendleton, who plays the Queen of Hearts in Johnson's production, expressed regret for her short time with the professor.
"We'd love to steal him," she said. "He's very attentive to your individual style as an actor."
"Alice in Wonderland" will be performed at 2 p.m. on Saturday and Sunday at the Schwartz Center for the Performing Arts, 430 College Ave. Tickets are $8 for students and senior citizens and $10 for the general public.