David Kramer, assistant professor of English, never thought he would make a career out of teaching.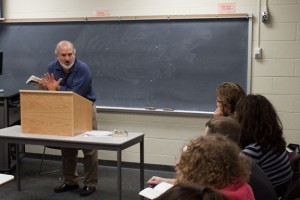 In fact, in the mid-1970s he was serving as a deputy sheriff in Berkshire County, Mass.,when he decided to go back to college for an undergraduate degree and eventually head to law school.
Kramer, who went on to earn his doctorate in English from Princeton University in 1987, has been a professor at Ithaca College since 1997 and currently teaches dramatic literature and introduction to American literature courses.
As a professor, he has published a book on 17th-century literature titled, "Imperial Dryden: The Poetics of Appropriation in Seventeenth-Century England," and his work has been cited in the Encyclopedia Britannica.
Kramer has come a long way since graduating in 1981 from Williams College, where he first discovered his desire to become a teacher.
While in college, an English professor named Clara Claiborne Park strongly impacted him in a way that made him want to become a professor.
"What she did in the classroom was so powerful," he said. "I only thought to myself, 'I want to do what she does.'"
Kramer said it was her intensity in the classroom as well as her ability to make texts matter and come alive that inspired him to take the same career path.
Kramer followed his desire to become an English professor in many different ways, including through travel. He became good friends with David Park, Clara's husband, and would soon become his travel companion.
"I'd go to their house and he'd throw me a globe, we'd roll it around on our knees and decide where to go," Kramer said.
He garnered an understanding of other countries by immersing himself in their cultures. He lived in Madrid for one year after college studying French, Spanish and Latin. He has also taken students abroad to teach outside of the classroom.
"For years I would take groups of students to London and I would lecture in the morning on plays we were going to see in the evening," Kramer said.
Claire Gleitman, professor and chair of the English department, said Kramer has a talent for transcending the boundaries of the traditional classroom and creating memorable learning experiences for students, such as inviting them over to his house to read through a play together.
"His intellectual and pedagogical flexibility is really extraordinary," she said.
This semester, Kramer is teaching the world literature course with a new twist: a focus on magical realism. Kramer added the subtitle "Magical Realism: Around the Day in 80 Worlds" to the course, and is tackling the new material with particular enthusiasm.
One popular magical realism novel Kramer has assigned the class is "100 years of Solitide" by Gabriel Garcia Marquez. Kramer said there are many descriptions of what magical realism entails, and the most important aspect of the genre is the search for truth through fantasy.
"Magical realism is when you take things out of this world and twist them, and twist them again, and twist them again until they are completely strange to us, and yet give us even a deeper sense of the complexity of our world," Kramer said.
Kramer said it was important to include the genre in the curriculum and knew there would be interest in magical realism at the college.
"It sort of encapsulates the whole project of literature, of getting to what is true through things that are made up," he said. "It's truer than truth itself."
Senior Ryan Bryant, who is taking the course, described Kramer as an enthusiastic and engaging professor.
"You can tell that he has a vast level of knowledge that I'll never be able to obtain," Bryant said. "It's daunting."
Although there are 20 students in the course, Kramer said he has had 12 in classes before.
The course is largely discussion based, and Kramer is quick to credit the success of the course to the students. He said the students read books as if they were going to write them, often taking a critical stance and comparing the author's decisions to what they would have done themselves.
"It's one of the ideal teaching situations to have really challenging material and students that can handle it," he said.
Senior Heike Domine, a student in the class this semester, said he has learned from Kramer how magical realism can be used to discover truths about the world.
"The biggest thing I've learned so far is that it's OK not to make sense, and that it's really acceptable to go on a journey with the book and discover something new about yourself and the world you live in in the process," he said.