Introduction, body, conclusion — all components to the classic essay.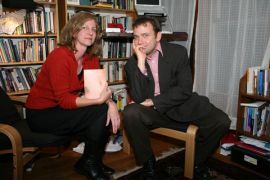 Imagine throwing conventions out the window and reading an essay written entirely in footnotes to a nonexistent text. Jenny Boully's "The Body" does exactly that. The layout of each page is blank except for footnotes at the bottom. As a story unfolds through each numbered footnote, she examines meanings of the word "body" in the most literal sense, ironically, in a story whose body is missing.
Essay Press, an independent publisher based in Ithaca, reprinted "The Body" in 2007. The essay is one example of the types of nonfiction stories the press publishes. Editors Stephen Cope, a lecturer in the Department of Writing at Ithaca College, and Catherine Taylor, assistant professor of writing, look for work that's both traditional and experimental — for essays that are unusual in style, content or structure.
"I like the idea that we are called Essay Press," Cope said. "Because much of what we may publish challenges common-sense notions of what an essay actually is or should be."
The press has five books in print with two going into reprint. Since its inception in 2005, Essay Press has obtained more than 100 manuscripts and received attention from distinguished literary magazines. This month, Essay Press was featured in Harper's and Poets and Writers magazines.
"One thing that sets us apart from mainstream publishers is that we all have a commitment to innovative and culturally relevant work," Taylor said.
The press began in Athens, Ohio, with three editors — Cope, Taylor and Eula Biss, an artist in residence at Northwestern University.
The idea to start a press took root when Taylor wanted to teach creative nonfiction but had difficulty finding works to use in the classroom. The editors researched for a year before receiving their first start-up grant, $20,000 from the University of Ohio, where both Taylor and Cope were working at the time.
Joyelle McSweeney, editor of Action Books, an independent press that publishes poetry and translations, said Essay Press is innovative in its content.
"This is an important genre that a lot of people are interested in writing and reading that's being studied at the undergraduate and graduate levels," McSweeney said. "It's great they can create a press that can fill that niche."
This fall, when Cope and Taylor came to Ithaca, the three editors started to do most of their work by "three-way date conversations," since Biss is still in Illinois.
"To be honest it's complicated and sometimes can be hard," Biss said. "We don't always agree on what books we want to publish and sometimes coming to an agreement takes many conversations."
The press publishes a wide spectrum of styles that include, but are not limited to, lyric essays, prose poems, experimental biography, autobiography and historiography.
Senior Fiana Muhlberger, an English major at Ithaca College, is interning with the press this semester.
"My favorite part of Essay Press has to be how it focuses on the writer as an artist rather than just a writer," she said. "They find authors who really do embody the idea of literature as an art form."
While some essays are experimental and radical, others take a traditional shape. "Griffin," by Albert Goldbarth, published in 2007 by Essay Press, is an example of a more conventional essay about divorce.
The variety in tastes between the editors creates an interesting dynamic. They try to avoid picking manuscripts that are similar, Cope said.
"I don't need to publish something operating in the same aesthetic territory as my own work does," Cope said. "We consciously try to make it as heterogeneous and as diverse as possible."
As an independent nonprofit press, gaining the funds necessary to keep the press afloat is a constant challenge.
"There is a lot of pressure to sustain what has become a success," Taylor said. "The books don't actually make money, so we still need to raise money to keep the press vibrant."
Cope and Taylor work out of their home in Ithaca. Their future goals include securing funds, advertising the press and its published works on a national level, and obtaining storage space and possibly an office.
Taylor, who grew up in Ithaca, said she is thrilled to be back. She and Cope look forward to establishing a presence in the community and see the college as a perfect fit for the press.
"I don't think any of us feel the press is going to stop anytime soon," Cope said. "We do realize it is a tremendous amount of work in ensuring it has its future, but the books are doing well."