Renate Ferro, a visiting assistant professor in the Department of Art at Cornell University, is showing her multimedia installation, "Panic Hits Home," this week at the Handwerker Gallery, as part of the Finger Lakes Environmental Film Festival (FLEFF). The festival runs through Monday. Using audio and video, Ferro draws parallels between the post–Cold War era and the post–Sept. 11 years. Ferro will lead a discussion about her exhibit at 1 p.m. tomorrow at the gallery. Staff Writer Kathy Laluk spoke with Ferro about her involvement in FLEFF, her work as a freelance artist and how her project relates to today's political world.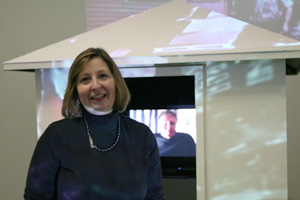 Kathy Laluk: How did you first become involved in FLEFF?
Renate Ferro: One of the organizers, Patty Zimmermann, [knew] of my work and has been a collector of my work … . She contacted me and asked me if I would put something together.
KL: What is your exhibit about?
RF: It's this whole idea of inside versus outside, the psyche and the social, and the public and the private. I find there is a familiarity between when I was a child in the 1960s and the aftermath of the Cold War [and today]. I still remember when my mother was terrified, and so we had a little area where we stockpiled canned goods … . People were really afraid that there would be a nuclear bomb. So I went back and found Cold War tapes the government put out that told the people how [to] protect themselves. Then I realized that our government now is doing the exact same thing. You can actually see the similar kinds of rhetoric. So with this [project], I've kind of juxtaposed the Cold War reactions with responses to Sept. 11.
KL: How do you think people of different generations will interpret these similarities?
RF: As we grow up, [we] start to think, you know, the "What if?" or, "Should I have done that?" I did interviews and asked people [about Sept. 11], "What was your reaction to the trauma?" The idea was to do a cross-generational array of people's responses to [Sept. 11 and the Cold War]. I spoke to people in their 70s and people as young as 19. It's serious and very poignant, but at the same time when you look back at yourself, you have to laugh. You've got to think now, Was that really rational? But I think in person people are generally more composed when doing their job, but when [they] come to [their] own space and [their] own home, your guard is let down and it's a whole different realm.
KL: What do you hope students will take away from your exhibit?
RF: My whole mission is to get [to] students [who] are in the college context and are very isolated sometimes from what's happening in the world. This is kind of a fun way for them to say, What is going on? What is the White House saying about reacting to the trauma [of Sept. 11]? I think that media and technology [are] interests of the younger generation. This interest is universal but also personal. I really wanted more of a multisensory response. [But] I always start with a concept or an idea, so it's not just about the visual.