With a chilling collective shout of "I am not still," the dancers' voices echo throughout the small Dillingham studio as they move across the floor, rehearsing for their upcoming performance at Cornell University's Locally Grown Dance Festival.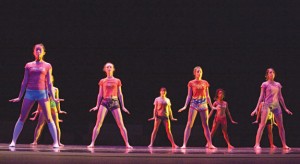 The piece, "A Call to Infinity," is a modern spoken-word dance with the recorded voices of members of Ithaca College's Rock Hard Dance Company set to music. It is one of three dances the group will perform this weekend as part of the dance festival.
Along with Rock Hard, On the Floor Dance Company from the college will also perform. The festival, organized by Byron Suber, senior lecturer in the
Department of Theatre, Film and Dance at Cornell, is a 10-day showcase of local dance and art from members of the Ithaca community including students and faculty from the college and Cornell. The festival starts today.
The festival will feature 15 shows, 61 different pieces and hundreds of individuals coming together. Suber said this is the first full-scale festival since he first had the idea. There were two smaller three-day festivals last December and May at Cornell.
"I wanted to reach out to other student groups on campus and other colleges because there's a lot of independent things going on," Suber said. "I thought it would be great to have an exchange and let people see each others' work."
Besides ballet, salsa, ballroom, breakdancing, belly dancing and modern dance, the festival will also feature music, poetry readings and singing.
Fitting into the theme of reflexivity and framing, the festival will also include events like screenings of student films from the last decade. Suber said he decided to include other mediums besides dance because all art has inherent movement.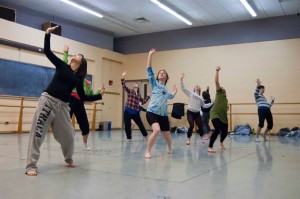 "There's a wide understanding of what can be considered dance," he said. "There's an aesthetic to dance. We don't really separate it. People sing and they're moving that can be dance, people recite poetry and move while they speak — that's dance."
Senior Shaina Ung, co-artistic director for Rock Hard, is featured in Suber's piece "Futures and Fractures," a full-length collaboration with 30 dancers from the college, Cornell and the Ithaca Ballet Company. She said the festival provides dancers and non-dancers alike the opportunity to see choreography from all over Ithaca.
"It's the only big dance thing in Ithaca," she said. "There's really no other dance show besides things that come in from outside on tour. This [festival] is trying to make it bigger, to expand the dance world here."
Ung said the festival is a great way to bring together the community and showcase the hard work all of the dancers at the college have been doing in the last few months.
"Ithaca's dance program is so small," she said. "It's nice to be like, 'We don't have a lot, but we're doing what we can with it.'"
Sophomore Lindsay Schmitz, a dancer in both Rock Hard and On the Floor, said because both groups are dancing pieces they've done before, performing them again allows her to think about each piece in a new way.
"It gives people the opportunity to do what they love and be able to show it instead of just doing it in a studio," she said. "It allows you to think in different ways. It's a real eye-opener."
Schmitz said the festival provides the perfect venue for dancers to express their love and dedication to the craft of dance.
"It's a really great way to be able to speak your mind without really speaking," she said. "You use your body to explain things. For me, dance is an outlet to pour your stresses out on."
On the Floor is also performing three dance pieces, including a modern piece set to Sara Bareilles and Ingrid Michaelson's "Winter Song." In all white, highlighted with tattered blue pieces of ribbon, the dancers invoke the image of lost love, not just in their costuming but in their delicate movements and spot-on pacing with the song.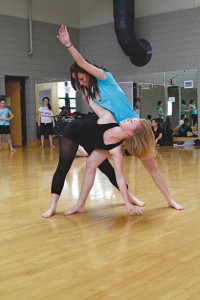 Junior John Yoshida, vice-president of Absolute Zero Breakdance Crew at Cornell, said he is looking forward to performing as part of the larger Ithaca dance community.
"People haven't seen or heard much about breakdancing," he said. "We try to project a positive image of it. We love being part of anything the [dance] department does."
Absolute Zero will also have some help from a few Ithaca High School students, who often dance with the group after school at weekday rehearsals. Yoshida said contrary to popular belief, not all breakdancing is freestyle. Because each member brings a different skill set to the table, they often have to choreograph dance pieces months in advance.
"It's a way to learn more — a really wide window into dance," he said. "At its core, breakdancing is a very battle-oriented freeform art. Our performances are choreographed just like any other dance form."
Suber said he hopes the dance community in Ithaca continues to grow and wants to make the dance festival an annual event. He said dance is a great means of expression and one of the best ways to unite the Ithaca community.
"We can just come together and imagine what's possible," he said. "We find ways to join together and reach out across the area and build something together."
For more information and a complete schedule of events, visit http://theatrefilmdance.cornell.edu.