Nick Brown stood in front of nearly 100 students Friday, clenching a microphone in one hand and a tissue in the other. His eyes glistened and his voice cracked as he discussed how the loss of his mentor to cancer gave him the motivation to further pursue his dreams.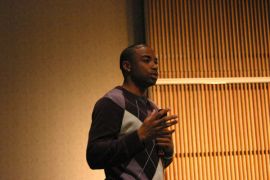 Speaking at the Colleges Against Cancer's Kick-off celebration in Emerson Suites, the 24-year-old "Real World Hollywood" star distanced himself from the show's
association with excessive partying, juicy romance and hot-tempered fights when he spoke of the hardship he faced when he lost his friend to cancer.
Throughout the "Hollywood" season, Brown had an internship at Movies.com where he met reporter Brandon Schantz. For more than six weeks, Brown worked closely with Schantz, who believed he had wiped out a grapefruit-sized tumor in his chest with chemotherapy after he was diagnosed with lymphoma in spring 2007. Schantz continued treatment while working for Movies.com.
"He was so good at handling his cancer," Brown said. "He was always able to adapt and didn't let anyone know his pain."
In an episode toward the end of the season, Schantz assisted Brown in conducting an on-camera interview with movie reviewers. It was after Brown's interviews that Schantz revealed he had cancer and was traveling to New York City to do a cancer-awareness commercial. By the episode's end, Schantz had been hospitalized because of a relapse and tragically passed away.
In the episode's closing scene, Brown was immediately brought to tears when he received the news of his friend's death by telephone.
"It literally hit me," Brown said. "I dropped the phone. It felt like everything inside me had been hit."
Senior Kylie Burnside, Colleges Against Cancer's monthly events co-chair, thought students could benefit from knowledge of Brown's experience.
"When Brandon passed away on the 'Real World,' I was deeply touched by the episode," Burnside said. "Nick's reaction was one that showed the true pain cancer causes."
Junior Madeline Dudek said she was moved to tears when Brown spoke about his friend suffering from cancer.
"It made me think about family members and other people that I know who have suffered from cancer and how hard it was when those things were happening," Dudek said.
Dudek said while Brown's speech was moving, it was also clear he was promoting himself.
"He was surprisingly charismatic for a reality television star, and he certainly had the audience engaged," Dudek said. "[But] the majority of the presentation was about his life outside of this tragedy. You can definitely tell that Nick wants to be a star and wants to be famous."
Even so, junior Stephanie Farber, Colleges Against Cancer's chair of events, said she hopes people will see Brown as a role model in his advocating against cancer.
"The purpose of having him speak here at Ithaca College was to educate and motivate people on the topic of cancer," Farber said. "His celebrity status helps people become aware of how important this disease is and how essential it is to find a cure."
Brown said he dreamed of being featured on "The Real World" ever since he was 12 years old. The Roman numeral XX, for season 20 of the longest-running MTV program in history, is tattooed on his wrist.
Since the reality show has aired, Brown has continued to make appearances around the country and is auditioning to become a television host, in addition to other projects he is pursuing in the entertainment world.
"I would just like to affect people in a life-changing way," Brown said. "Just like [Schantz] did for me."
Brown will also continue Schantz's legacy through charities, foundations and scholarships created by his friends and family.
"[Schantz] passed away at a time so I could tell this story," Brown said. "He was meant to touch me in a certain way, and I know that he's changed my life forever by giving me the strength to help others."