Reed Martin and the Reduced Shakespeare Company return to Ithaca on Saturday to perform their new show, "The Complete World of Sports (Abridged)" which Martin co-wrote with Austin Tichenor. The show attempts to condense every sport played throughout world history into a two-hour comedy performance. Senior Writer Matthew Biddle spoke with Martin about his theater background, performing worldwide and what fans can expect from this show.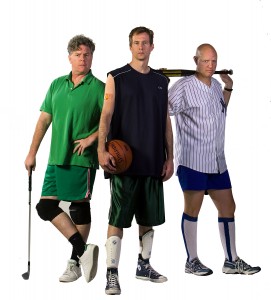 Matthew Biddle: You did your undergraduate work in theater at UC Berkley and received an MFA from UC San Diego. Where does your love for performing come from?
Reed Martin: My family wasn't performers, but we did go to see shows. As a kid, I went to see a professional production of "You're a Good Man, Charlie Brown" and thought, "Wow, that's really great." I didn't take any theater until college, because it kind of scared me. The short answer is I had a crush on a girl who was taking a theater class, so I started to take theater classes.
MB: After college, you ended up in the Ringling Brothers Circus and performed there for two years.
RM: Yeah, I did eight years of college, got two bachelor's degrees and a master's, and I went to live in New York for a year. I really hated New York. I had heard about Clown College, I knew Penn Jillette from Penn & Teller and another famous clown, Bill Irwin, had gone there. So I was living in New York thinking, "How am I different from a million other people who want to do this?" I'm funny verbally, but not necessarily physically, so I auditioned for Clown College. … We would do about 500 performances a year, up to 13 shows a week. In professional theater, the most shows you do in a week is eight, and we were doing 12 and 13. It was great training
MB: How do you get inspiration for writing these shows? How did you come up with the "Complete World of Sports," for example?
RM: We look for something that's a big topic that Austin and I are very interested in, because we're going to spend several years of our lives working on it — something we think would be interesting to audiences all over the world. … People are fanatical about sports. Everybody has a familiarity with them, but people who are fanatical about it are really fanatical about it. We spend a lot of the show, as with all the shows, celebrating the subject matter but mocking the stuff surrounding it. With Shakespeare, we mock the way he's often performed badly, and with the sports show we mock the blustery sportscasters and the way they overstate everything. As with all the shows, you don't need to know anything about sports to enjoy the show.
MB: What has been the audience reaction to this show so far? What can people expect?
RM: It's been pretty universal — people leave the theater with a feeling of nausea and motion sickness. I've got all the punch lines ready. We claim to cover every sport ever played on all seven continents in the entire history of mankind in less than two hours. We break down sports into nine different categories, like sports that are fastest, strongest kind of sports, ball and stick sports and who-can-beat-up-who sports. … Then we finish with our version of the Olympic Games. We call ours the Olympish, which seems like a good wrap-up because it covers sports in all those categories on all continents and, of course, the Olympics started way back when and go until now.
MB: After performing all over the world, what are some of your favorite places to perform?
RM: We were in Singapore the summer before last. My wife and I have two sons who are 10 and 12, so in the summer they can come with us. It's fun to take the boys someplace so exotic, and the audiences there have always been really responsive. This summer we're going back to a place we really love — the Kennedy Center in Washington D.C. … I have very fond memories when the company hit big in England, which was in '92 to '93 when we ran in London's Arts Theatre. That was a really big turning point for the company, and I love London. That was the year my wife and I were first married, and living in London, so I have nice memories of that.
MB: What's the best part of your job?
RM: I get to do something for a living that I love to do. Everybody is not that fortunate so I feel very, very fortunate that I can do something I love that makes lots of people happy.
"The Complete World of Sports (Abridged)" will begin at 8 p.m. Saturday at the State Theatre. Tickets start at $19.50. For more information, visit www.reducedshakespeare.com.