While other students are keeping busy with homework this semester, seniors Lauren Brauchli, Anna Campbell and River Lauren Ferris are preparing to jet to Los Angeles to walk the red carpet at a glitzy awards ceremony amongst industry leaders like "Glee" creator Ryan Murphy and television personality Tom Bergeron.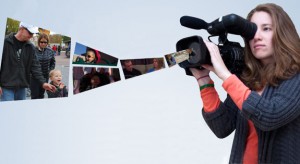 The trio will be honored as winners in the documentary category of the College Television Awards in two weeks for their film, "Bound by Hope: One Family's Story," which they originally produced for their Video Workshop course last fall.
"Bound by Hope" follows the Scoble family of Emmaus, Penn. At three months old, 4-year-old Joshua Scoble was diagnosed with Fibrodysplasia Ossificans Progressiva, a rare genetic disease where muscles and tendons calcify, turning them into bone over time.
The award is presented by the Television Academy Foundation, the same organization that gives Emmys to professional productions. The group will receive an Emmy statuette and cash prize for first, second or third place in their category.
In its history, Ithaca College has won this award only once before, in the news category for "Newswatch 16" in 2004.
Steve Gordon, assistant professor of television-radio and the team's professor for Video Workshop, is also a member of the Education Committee for the Academy. He said winning the award is a huge achievement, as there were 565 entries from 154 universities.
"Park School productions are competing with the top film schools, and that hasn't happened for years," Gordon said. "It helps put us on the map as a real contender in the documentary category."'
Raising awareness is a priority for the Scobles, since funding for research usually comes from families of FOP patients. According to the International FOP Association, there are currently only 700 diagnosed cases worldwide.
Stacy Scoble, Joshua's mother, said the family allowed the girls to film them because the documentary represented a way for the family to educate people about this disease.
"Joshua was misdiagnosed, and they ended up doing surgery on his back, and that's the worst thing in the world to happen," Scoble said. "To me, the more people that know about it, the less the chances of errors and misdiagnoses."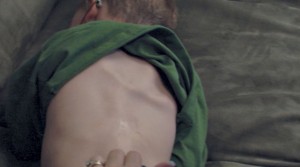 Scoble said small injuries or falls can cause flare-ups, and surgery only makes the condition worse. Eventually, FOP patients become permanently immobile, usually by their mid-40s.
"Day-to-day life is a challenge," Scoble said. "It's very difficult to keep him away from any kind of trauma or injury. I want him to live a full life, … but to an extent, we have to hold back just to protect him."
Ferris found the family after seeing them in a "Today Show" segment and approached them about being the focus of a documentary. After meeting the family, the group felt they could make a great film and help raise awareness at the same time.
Starting in October, the documentary team drove more than three hours to Pennsylvania on weekends and followed the Scobles through their daily activities. Ferris said the team edited footage and contacted composers back on campus throughout the entire shoot.
"We were down there almost every weekend for at least a month," Ferris said. "One time we had to get up at 4 a.m. to shoot because we shot as soon as Josh woke up."
In the documentary, viewers are taken along as Joshua and his parents head to the county fair and go trick-or-treating for Halloween and enjoy the local playground.
In a particularly emotional scene, Joshua's father David Scoble breaks down when discussing how limited Joshua's life will be and how much he wants to share his pastime, hunting, with his son.
Though films are rated on overall quality, Gordon said this emotional portrayal set "Bound by Hope" apart.
"It's sad and yet it's hopeful, and I think that automatically gives it real power," Gordon said.
Brauchli said the family was incredibly open with them, which helped the film be successful.
"They let us into their lives, which for some people can be very uncomfortable," Brauchli said. "It can be difficult at times, but they know they need to do anything possible to tell people about this disease."
The film first screened at the course's end-of-the-semester event in December. Brauchli said despite its emotional subject matter, the audience seemed to enjoy the film.
"It can be difficult to watch because it's tough to see a 4-year-old boy suffering," Brauchli said. "You realize how lucky you are, and you appreciate everything you have in your life."
Scoble said she and her extended family enjoyed working with the filmmakers and the final product.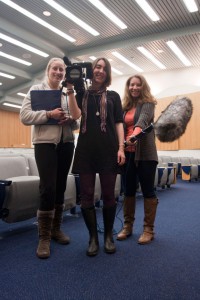 "The way they put it together and what they got across to the audience, it was perfect," she said.
Campbell said for her and Brauchli, who have known each other since first grade, the award is a culmination of years working together on projects.
"This is our final major piece in college and for it to win the top award is such validation both for our friendship and everything we've been working towards for the greater part of our life," Campbell said.
Though they never expected to win the award, Campbell said, they all agreed they were glad to show the universality of the family's struggle.
"It's not just about disease," she said. "Stacy says at the end of the film that Josh has so much pain every day of his life, and he's still such a happy kid. It puts your life in perspective: this little boy has so much to deal with, so maybe my problems aren't so bad."
To view the trailer, visit www.wix.com/fallcreekfilms/boundbyhope.