When a local film crew arrived early one morning in 2006, Natasha Tall was dancing around her kitchen. Shiny figurines lined her windowsill, and pictures of family and friends watched her swaying hips and gliding feet from their place on the wall. She greeted the young filmmakers — who came to her house to shoot an independent film — with a bright smile, her white teeth gleaming from behind tickle-me-pink lipstick. Singing at the top of her lungs, she had more energy than the entire crew of people less than half her age.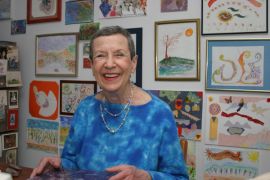 Ithaca College students may recognize Tall, a 70-something Ithaca woman and former college theater major, who has acted in several student films since 2002 at both the college and Cornell University.
Robbie Barclay '08 cast Tall in his senior thesis "The Beast Within," which will be screened this week at a new filmmakers showcase in New York City. In this dark comedy, Tall plays a naive, French-speaking woman who doesn't notice human body parts thrown away by her next-door neighbors. Barclay said working with Tall was easy and enjoyable.
"In between takes, she was fun and sassy and seemed to have great rapport with the other actors, especially for having just met them," Barclay said.
Tall said when she works with students, they often don't know how to treat her because they are inexperienced at working with senior citizens. On the set of one movie, to get the students to open up to her, she jokingly refused to be filmed without her makeup on.
"Some people say I'm the drama queen, but pay no attention," Tall said.
Tall said she fell in love with acting while studying theater at Denison University in Granville, Ohio. Her peers had such a tremendous influence on her work that she still keeps in touch with many of them more than 50 years later.
"We became like family," Tall said.
Through her work in student films, Tall has formed similar bonds with the college students she works with today. She said this connection with young actors and filmmakers is what makes her hobby worthwhile.
"What keeps me going is working with young people," Tall said. "It's total fun for me."
Before moving to Ithaca in 1993, Tall taught French for 25 years at private schools in Queens, N.Y. She briefly entered the fashion world, as a secretary and assistant at design houses Christian Dior and Balmain. Tall and her husband knew they wanted to retire in a college town and chose Ithaca after her daughter, Diana Andersen, attended Cornell in the early '90s.
"To be in a small place where I know people has been a saving grace," Tall said.
Tall has been active in the community ever since moving to the area. In addition to acting in student films, she teaches French and Spanish and takes art classes at the Lifelong senior center. She writes short fiction stories, which she has read on local television channels and occasionally acts with a group at the Lifelong Improvisational Theater.
Chris Julian, '94, a filmmaker from Ithaca who studied at Binghamton University, has cast Tall in three of his projects, once in a leading role in the feature-length film "Invisible Ink," where she plays an elderly woman searching for truth in her life.
"She is a bundle of energy," Julian said. "It's like working with a tornado."
Tall has most recently appeared in the one-minute film "When in Rome," written, produced and directed by Eric Lindstrom of Ithaca. The film was one of the top 15 finalists in the "I Love N.Y." online short film competition.
"Natasha has this classic quality to her that will put her into the history books of Ithaca actresses," Lindstrom said. "She exudes this creative spirit that's just infectious."
In the film, she plays an elderly winemaker, trailing through Six Mile Creek Vineyards, walking stick in hand, plucking grapes and serving wine with pride. Her performance won over critics and remained one of the top-rated films throughout the competition.
Senior Charles Woodard, a cinema and photography major, watched clips of Tall's performance in "Satisfaction" in a class last year and said she was memorable and spirited.
"She was really able to articulate herself well," Woodard said.
Currently, Tall is making the most of her retirement, traveling the world when she isn't acting in student films or dancing in her kitchen.
"Natasha sets an example for how people should live their lives — taking shots, taking advantage of opportunities and not being at all shy," Lindstrom said.