TAKE A DATE
Mira Mediterranean Bistro
311 Third St.
272-6472
Tucked behind a gas station in the middle of a shopping strip, adjacent to a Rent-A-Center, rests the steel-blue façade of Mira Mediterranean Bistro, glimmering with tea candles in the entryway.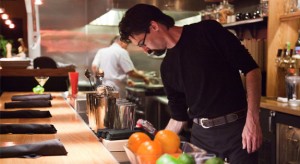 The cool hues of the decorations inside find balance with the dark wood tones of the furniture, creating an inviting, peaceful space. Jazzy, upbeat music plays and large mirrors line the entire length of one wall. Sconces, dried alliums and glowing orb lights all give Mira's a modern flair of romance and fun. The atmosphere is ideal for a first, second or even third date because of the bistro's lively mood and reasonable pricing.
Owner Samira Reamer said she cooks with a Lebanese influence, tweaking recipes from her father. She said 90 percent of business so far has been repeat customers, and she gets a lot of couples, especially on Fridays.
Reamer said she changes the menu slightly every month to reflect seasonal, fresh and local food items. She said the dish she recommends most often is the salmon.
"It's back to the classics," she said. "We serve staple, Middle Eastern Mediterranean food people weren't able to get in Ithaca until we opened."
Mira Mediterranean Bistro will also be opening for lunch soon to turn up the charm and bring the romance during the day as well.
BRING YOUR PARENTS
Mercato Bar & Kitchen
108 N. Aurora St.
319-5171
Clusters of lemons, limes and oranges sitting in individual bowls line the solid wood bar, contributing to the faint aroma of citrus and fish. In Mercato Bar & Kitchen, the single length of booths against the far wall parallels the long bar fitted with high, red-cushioned chairs. With maximum seating capacity at 47, by 5:30 p.m. on a Saturday night the restaurant was nearly packed.
The cramped space lends itself to good conversation, with fresh bread served to customers ranging from parents out with their college students to middle-age couples enjoying an evening together.
Owner Eric Pirchon '98 said running the restaurant is a family affair.
"We created somewhere we would want to go to when we were dining out," he said.
The menu features gnocchi, butternut squash ravioli and pan seared diver scallops, along with flavorful house cocktails with fresh juice inspired by the 1920s.
With an open stove cook line, warehouse spots on wall posters and colorful chalk decorating the overhead blackboard, Mercato embodies the artistic, eclectic spirit of Ithaca and the town's green, local food philosophy. Though the space is small, a family should still have no problem recapping their student's latest accomplishments over an authentic Italian dinner.
VEGGIE LOVERS
Sahara Mediterranean Restaurant
118 N. Aurora St.
319-4522
The faint smell of spice, coupled with Middle Eastern music playing, contributes to the welcoming cultural atmosphere of Sahara Mediterranean Restaurant.
Five salads, a falafel pita with lettuce, tomato, cucumber and tahini dressing, and a hummus wrap with romaine lettuce, roasted red peppers and marinated artichokes are just a few of the veggie-friendly menu selections.
The menu also includes grilled swordfish, lamp chops and beef shish kabob.
Sophomore Zoe Coleman works as a waitress at Sahara and said the restaurant has delicious options for meat lovers and vegetarians alike.
"The veggie plate is my favorite," she said. "It has salad with hummus and baba ghanoush, dolma and pita bread. There's a ton there, and it's all really good."
A hand-painted yellow sign over the door reads, "The fondest memories are made when gathered around the table," a mantra reflected in the restaurant's spacey layout. The tables are scattered throughout the wide-open room, creating an ideal atmosphere for conversation, which contributes to the friendly ethnic experience.
MEET A FEW FRIENDS
Mexeo
213 Dryden Road
272-9367
After a year of  running his Vietnamese café, Xeo's, Sebastian Villa '07 decided to change the entire philosophy of his restaurant last fall. Now, he has a new name and a new cuisine, serving Tejano-style (Tex-Mex) taquitos while still using fresh, local ingredients.
A whiteboard hanging above the cash register lists every farm in the area where his beef and vegetables originated. In order to try another cuisine he was familiar with, Villa said he wanted to revamp the restaurant.
"It's done in a way that's really specific to the region where I grew up," he said. "They are all old family recipes for food I grew up eating, and have been around my entire life."
While Villa prepares the ingredients throughout the day, it's not until someone orders that everything is put together.
The tortillas are filled with local pork or beef. The vegan taquito includes marinated tofu and potatoes. It's not a vegetable-heavy cuisine but there are still vegetarian options.
A straw sombrero hangs on the back door behind Villa as he flips tortillas in a pan, searing them to a crispy brown.
He said he is glad to be sharing part of his culture with the community.
"My idea was to recreate a restaurant like in my hometown," he said.
COMFORT FOOD
Delilah's on Cayuga
112 S. Cayuga St.
277-9143
Tex Mex chicken mac and cheese, country fried chicken, creamy shrimp and grits and seafood jambalaya are just some of the comforting menu ideas of the Savannah-style Southern cooking found at Delilah's on Cayuga, which also infuses elements of French and Caribbean cuisine.
With paper cutout hearts hanging from its windows over Valentine's Day weekend, Delilah's, formally WildFire Lounge, is not only a vibrant and unconventional restaurant, but also an art and music venue.
Vibrant red, exposed brick and cream walls showcase the work of local artists in this well-lit space. The long booths against the wall lend themselves to family-style dining, and the silver tables and chairs add a modern feel to the layout.
As a live music venue, diners can also head up to the second floor to catch local bands.
Senior Taylor Horton said when she ate at Delilah's, she enjoyed the casual atmosphere.
"The food was very creative, nothing like I'd seen around Ithaca before," she said.