For students looking for a night out that won't break the bank, Madeline's and Blue Stone are offering a money-saving option.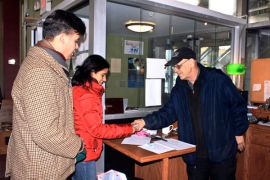 Both restaurants are providing a dinner-and-movie special with Cinemapolis. The offer began last month, giving customers free tickets to Cinemapolis when they order certain menu items for dinner.
Doug Gruen, chef and owner of Blue Stone restaurant, thought the new deal would provide a service to the community.
"It's not a big moneymaker for us," Gruen said. "But we don't necessarily lose any money either. We just thought it was a nice contribution for the community."
At Madeline's, the total package costs $35 per person and can only be used between 5 and 6 p.m. every day. Both restaurants' menus consist of three main courses. Though it might seem as if there is no real saving, eating dinner at Madeline's and then seeing a movie can cost more than $70.
Blue Stone's select menu does not have a fixed price and can range from $20 to about $30. Customers eating from the menu can find some of the restaurant's signature salads and chicken dishes.
Sophomore Colleen Gburek said she thinks the offer is great for college students on a budget.
"It's a good idea," Gburek said. "Especially because as a college student I would not be able to afford going to Madeline's and then going to the movies. It would be good for a date night or a night out with my friends."
Shawn Erwin, manager of Madeline's restaurant, said the deal will help support Cinemapolis at their new location and also increase traffic to both destinations.
Gruen said the restaurants will write a check to compensate the theater for the tickets sold. He said though it costs the restaurants money, the publicity makes up for the loss.
Lynne Cohen, executive director of Cinemapolis, said teaming up with other businesses helps boost the downtown economy and helps customers find cost-effective options when they want to go out.
"It's good for our customers and good for the general health of downtown," Cohen said. "This is just a way for us to give [people] a little break."
Gburek said she thinks businesses partnering up to offer deals to customers will stimulate the economy of Ithaca.
Cinemapolis originally offered the dinner-and-a-movie package through Willow restaurant near Fall Creek Pictures, but after the theater's move, the business wanted to be able to offer the deal at nearby restaurants.
Erwin said he has already seen business improve. The special has mostly traveled by word of mouth.
Cohen said that customers enjoy the savings.
"They just like having it," she said. "In both cases the restaurants are giving them quite a deal, and we're giving them a deal as well."